More questions arise over Whitefish Energy's Puerto Rico power grid contract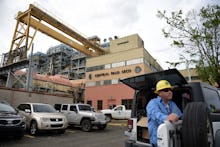 A government contract received by a small Montana-based energy company to rebuild Puerto Rico's electrical grid is raising more and more questions, as new revelations about how it was awarded and what provisions are included in the agreement have surfaced.
Whitefish Energy — a power company based in Interior Secretary Ryan Zinke's hometown of Whitefish, Montana — was awarded a $300 million contract to rebuild Puerto Rico's decimated power grid without a formal bidding process.
The contract for the deal states that the Federal Emergency Management Agency approved the agreement between Whitefish and the Puerto Rico Electric Power Authority.
However FEMA denied that it ever approved the contract, and said it has "significant concerns" about whether the costs in the contract are reasonable.
New revelations also show that the contract bars both the federal government and Puerto Rico from having "the right to audit or review the cost and profit elements" of the deal.
Puerto Rico Gov. Ricardo Rosselló has asked the inspector general of the Department of Homeland Security to investigate the contract and how it was awarded, according to USA Today.
Two top Senate Democrats have also asked the Government Accountability Office to look into the contract, including whether Zinke was involved in getting it awarded to Whitefish.
Zinke has denied involvement.
However, Zinke knows Whitefish CEO Andy Techmanski, and Zinke's son worked a summer job at a Whitefish construction site, according to ABC News.
More than a month after Hurricane Maria, 74% of the island is still without power, according to CBS News' David Begnaud.