Donald Trump turned a photo-op with children of the press into an attack on the media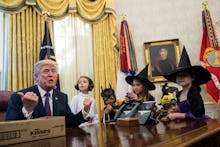 Donald Trump loves to trash-talk members of the mainstream media — even to their own grade school-aged children.
During a Halloween photo opportunity with the children of journalists and White House staffers in the Oval Office on Friday afternoon, Trump made several oblique references to his contentious relationship with the press.
"I cannot believe the media produced such beautiful children," Trump said aloud as the costumed children crowded his desk. "How the media did this, I don't know."
As the children slid around behind the Resolute desk for a photo, Trump continued to subtly dig at their parents.
"Good job," he said, addressing the reporters in the room and gesturing to the kids. "Wouldn't say you did very well here," he said, pointing to himself.
At another point Trump can be heard audibly groaning as he asks the children, "You gonna grow up to be like your parents?"
"Hmm... don't answer," he concludes.
The bizarre moments during the scheduled photo op, which lasted only minutes, didn't stop there. At another point during the event, Trump attempted to console a crying girl by informing her of his upcoming travel plans.
"She's Japanese? Beautiful... I'm going to be in Japan in two weeks," he said.
To another child, he said, "Well, you have no weight problems — that's the good news, right?" as he handed out candy.
The president's conduct with prospective trick-or-treaters stands in especially stark contrast to that of his predecessor, Barack Obama, who notoriously loved children and took every opportunity to play with them in the Oval Office.
During Halloween 2015, Obama famously got a special kick out of one young visitor in particular who was decked out in a Pope costume.