Trump allies lash out at media, Mueller after news of charges in Russia probe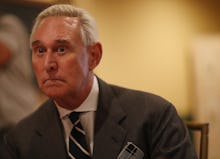 President Donald Trump was uncharacteristically quiet about the Friday night report that special counsel Robert Mueller had filed the first charges in his Russia probe.
But the president's lackeys weren't.
Trump allies Roger Stone, Sebastian Gorka and Sean Hannity all let loose on Twitter Friday and early Saturday, blasting Mueller, the media and Hillary Clinton in the wake of CNN's bombshell report.
Stone, a former adviser to the Trump campaign, was perhaps the most unhinged, unleashing a profane string of insults at CNN's Don Lemon, whom he called a "covksucker" and a "dull witted arrogant partyboi."
Stone also attacked New York Times columnist Charles Blow — in a tweet aimed at the wrong account — calling him a "piece of shit." Blow appeared on CNN with Lemon Friday night.
He also took aim at anti-Trump conservative Bill Kristol, referring to him as "porky," and at CNN's Jake Tapper and Ana Navarro — "human excrement" and a "dumbfuck," respectively.
Bizarrely, he seemed to suggest that he believes former President Richard Nixon's Watergate scandal was, in his buddy Trump's terminology, fake news.
"If Carl Bernstein says something the overwhelming odds are that it's false lied about Watergate lying lying now," Stone wrote, referring to the legendary journalist, who appeared on CNN Friday night.
Gorka, who left the White House in August, called for Mueller to be fired if he executes warrants over the weekend.
Hannity, a close ally of Trump, suggested that Mueller was working in cahoots with the media, which he argued did not focus enough on recent revelations about a controversial Obama-era uranium deal and the Clinton campaign's bankrolling of the explosive Steele dossier.
"When will Hillary Clinton be indicted?" Hannity tweeted.
A grand jury on Friday approved Mueller's charges — the first to be filed in his intensifying investigation into Russia's interference in the 2016 election, which includes a probe into possible collusion between the Trump campaign and the Kremlin and questions as to whether the president obstructed justice when he fired former FBI director James Comey.
It isn't yet clear what the charges are or who they are against, but an arrest may be made as soon as Monday.
A White House official has said the administration has "no comment" on the pending indictment so far.