This week in Trump-Russia news: Mueller files charges as probe shows no signs of stopping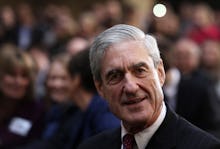 President Donald Trump and his White House tried to give the impression this week that the Russia investigations are winding down and that it has been "commonly agreed ... that there was NO collusion between Russia and Trump."
But the news late Friday that special counsel Robert Mueller has filed charges in his FBI probe and will make an indictment next week shows that nothing could be further from the truth.
It's not yet known what the charges are or who they are against, but the coming indictment makes one thing clear: the Russia investigation is continuing to intensify and will likely extend well into 2018.
Here's what you need to know about the charges — and the other twists and turns in a busy week of Trump-Russia news.
Grand jury approves charges in FBI probe
Mueller got the charges approved by a grand jury on Friday.
The charges are sealed under a court order by a federal judge, though, so what they are or who they're against won't be known until the person or persons charged are brought into custody.
This is big news, though not entirely unexpected; after all, former Trump campaign chairman Paul Manafort was reportedly told to expect an indictment when Mueller's prosecutors raided his home over the summer. He and former national security adviser Michael Flynn have been under intense legal scrutiny for months.
However anticipated the charges were, though, the news is still a bombshell.
Sarah Huckabee Sanders — Trump's press secretary — told Fox News just this week that the White House believed Mueller is getting ready to close his investigation soon and that it will not turn up anything.
"Each day we get closer and closer to closing the loop on this on our front," she said.
But the charges underscore the seriousness of Mueller's investigation — and suggest that it won't be stopping soon.
As former federal prosecutor Patrick Cotter said in a phone interview in September, Mueller's team will likely seek to use charges as leverage to get the person indicted to get further information on other subjects of the probe.
"That's very standard," Cotter said. "That's simply good investigative procedure."
White House doubting its Russia strategy amid charges
The Trump administration was apparently shocked at the news and has begun to doubt its more cooperative strategy toward the Russia probe, Politico reported Saturday.
For weeks, it has been reported that Trump's legal team has sought a more conciliatory approach to Mueller's FBI investigation in hopes of bringing the probe to a "prompt and decisive end" and clearing the president's name.
But in the wake of Friday's news, according to Politico, some administration officials are starting to question lawyer Ty Cobb's strategy.
The charges and lack of warning ahead of the news "is a huge indictment of their cooperation strategy," a Trump ally told the publication.
Trump points finger at Clinton: "Was collusion with HC!"
Meanwhile, Trump has been on the attack this week, claiming not only that he did not collude with Russia, but that Hillary Clinton did.
His attacks on his 2016 opponent come on the heels of unflattering reports about an Obama-era uranium deal that critics chided Clinton over during the race and her campaign's funding of the explosive Steele dossier.
Politics take center stage in congressional probes
Those reports on Clinton have thrust political divisions into the middle of the bipartisan congressional probes into Russia.
The controversial uranium deal gave Russia control of about 20% of the United States' uranium production capacity. The deal involved a wealthy donor to the Clinton Foundation; the Obama administration approved the deal with input from Clinton's State department.
New revelations about the deal — that the FBI found "substantial evidence" that Russian officials engaged in 'bribery, kickbacks, extortion and money laundering designed to grow Vladimir Putin's atomic energy business inside the United States' before the Obama administration gave it the go-ahead" — have led Republicans to pursue a counter-narrative on Russia.
Rep. Devin Nunes (R-Calif.) on Tuesday announced a multi-panel probe into "Russia's role" in it. It is also part of a growing conflict between Sen. Chuck Grassley (R-Iowa), the Judiciary committee chairman who is examining the deal, and Sen. Dianne Feinstein (D-Calif.), the top Democrat on the committee.
Meanwhile, news that Clinton and the Democrats helped bankroll the dossier that alleged collusion between the Kremlin and Trump — along with the unverified claim that the Russians have a tape of Trump at a "golden shower" show in a Moscow hotel room — have added a new layer of controversy to the intelligence.
While it can be argued that it is in the ballpark of the opposition research typical of campaigns, it has also raised questions about the dossier's contents — and the possibility that top Democratic officials hid their role in its creation.
In all, the Clinton controversies have underscored the relative power of the FBI probe compared with its congressional counterparts.
Mueller is not a politician — unlike his congressional counterparts, who are investigating Russian interference while simultaneously navigating a bitterly partisan Capitol Hill.
Additionally, Mueller's team has been able to meet with Christopher Steele — the ex-British spy who authored the dossier — which congressional investigators have so far been unable to do.