Women rally across France to protest sexual harassment and assault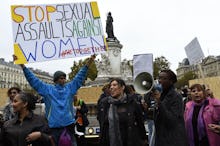 Women and their allies took part in rallies across France on Sunday to protest gender-based violence and assault, the Associated Press reported.
The protests, which took place in 11 French cities, were organized by French group Les Effronte-e-s, which called on women to "go on the street to show ... we are thousands and thousands who have to live, cushion the blow, digest it and handle often-traumatizing experiences," as well as French journalist Carol Galand.
"It's not just a hashtag, street harassment, it's something that all women live," 19-year-old Marion Muller told Le Monde at a protest in Lille, France.
Sunday's primary demonstration took place at the Place de la Republique in Paris, where hundreds gathered to protest despite rainy conditions.
Two teenage protesters in Paris told Le Monde that they had come to Sunday's protest "to denounce what happens in the street, at home, in the evening, on social networks."
"We have already been attacked in the evening by guys who are rubbing against us, it's an assault," the 15 and 16-year-old students continued.
French women have been mobilizing against sexual harassment and assault in the wake of the allegations against Harvey Weinstein and the wide-reaching #MeToo movement. The French government has proposed a bill that would make street harassment an offense punishable by a fine, and French women launched their own social media campaign, #BalanceTonPorc ("rat out your pig"), to encourage women to publicly call out the men who have sexually harassed or assaulted them.
According to statistics cited by the AP, about 80,000 women in France face rape or attempted rape, although only 10% ever file a complaint.
"The point is that the whole of society has to redefine what it will accept and what it will not," French equality minister Marlène Schiappa told French newspaper La Croix, as quoted by the Guardian.
"Voices are being heard, in France as in other parts of the world," Schiappa said. "Society is ready to reject [sexually motivated] violence. There is a desire to act."