Puerto Rican governor demands cancellation of $300 million contract amid heightened scrutiny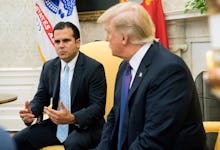 Following days of heightened scrutiny over an unusual $300 million contract to restore Puerto Rico's storm-damaged electrical grid, the commonwealth's governor called on his island's power company to cancel the deal.
"There cannot be any kind of distraction that alters the commitment to restore electrical power as soon as possible in Puerto Rico," Gov. Ricardo Rosselló said on Sunday of the unusual deal between the Puerto Rico Electric Power Authority and Whitefish Energy, a firm in Montana that had only two full-time employees on the day Hurricane Maria made landfall.
Rosselló's call to cancel the deal echoes concerns from San Juan Mayor Carmen Yulín Cruz, who said the "alarming" deal "should be voided right away and a proper process, which is clear, transparent, legal, moral and ethical, should take place."
Their political pressure follows calls from Democratic Sens. Maria Cantwell and Ron Wyden to investigate the circumstances surrounding the contract over concerns of ethical impropriety, including the "inflated costs of time and material" that bills the commonwealth for substantially more than so-called mutual aid agreements, the island's usual network of support.
Wyden and Cantwell also asked Congress to examine "the contemporaneous communications between Whitefish [Energy] and senior members of the federal Executive branch, including Secretary of the Interior Ryan Zinke."
Zinke hails from the town of Whitefish, Montana. He and Whitefish Energy CEO Andy Techmanski have both confirmed that they know each other, but characterized their relationship as the sort of unavoidable acquaintanceship that happen in small towns.
Both Zinke and Techmanski deny that their relationship had anything to do with Whitefish Energy scoring the contract over others who would have charged the commonwealth substantially less to repair its damaged grid. For his part, Zinke decried "attempts by the dishonest media or political operatives to tie me to awarding or influencing any contract" in a statement on Friday.
"I welcome all investigations into the allegations," he tweeted.
Joe Colonetta, the founder of HBC Investments, a company that provides financial backing to Whitefish Energy, has donated thousands to President Donald Trump, Energy Secretary Rick Perry and other Republicans.