Houston Texans players respond to owner Bob McNair's "inmate" comment with pregame protest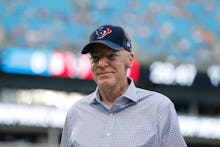 In response to a recent offensive comment made by the team's owner, Bob McNair, players from the Houston Texans football team kneeled during the national anthem as part of a planned pregame protest Sunday before their game against the Seattle Seahawks.
The protest took place following McNair's recent remark during a meeting with other team owners, along with NFL players and commissioner Roger Goodell, on Oct. 17. During the meeting, ESPN reported on Oct. 27, McNair said in response to the ongoing NFL player protests: "We can't have the inmates running the prison."
McNair's comment, which seemed to equate the players he employs with prison inmates, was quickly decried by the Texans and other NFL players, as well as Jay-Z and politicians in the Houston area.
"I think the comments were disrespectful; I think it was ignorant; I think it was embarrassing," Texans offensive lineman Duane Brown said, according to the Houston Chronicle. "It angered a lot of players, including myself. We put our bodies and minds on the line every time we step on the field. To use an analogy of inmates in prison, I would say that's disrespectful."
"This is bigger than just the protests. This is the view of player-owner relationship. This is how you view us: 'You're an inmate. We can't let you guys out of line. We can't let you speak for yourself. We can't let you have your own beliefs.' That's what it feels like. It's a bad situation," Brown continued.
Texans players met Saturday to plan their response to McNair's comments during Sunday's game, ABC News reported. Two players, DeAndre Hopkins and D'Onta Foreman, previously skipped the team's Friday practice because of the remark, ABC noted.
McNair has issued a public apology for his comments, in addition to meeting privately with the Texans players Saturday morning to "express regrets" for his poor choice of words.
"I regret that I used that expression. I never meant to offend anyone and I was not referring to our players," McNair said in a statement published by the team's public relations Twitter account. "I used a figure of speech that was never intended to be taken literally. I would never characterize our players or our league that way and I apologize to anyone who was offended by it."