Mic Wakeup: Trump's new record low, NFL players protest and #MeToo rallies in France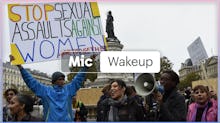 Here are three stories for Monday, Oct. 30 to get your morning started:
Trump's record low
Yuge. Bigly. Best. These are words you cannot use to describe President Donald Trump's approval rating, which hit a new, historic low on Sunday with an astonishingly dismal 38% of voters approving of the president's job performance. And that's not even the worst part.
#MoiAussi
In 11 cities across France, feminists and their allies rallied to protest crimes against women, according to the Associated Press.
19-year-old Marion Muller, a protester, summed it up best: "It's not just a hashtag, street harassment, it's something that all women live," she said.
Houston Texans kneel in protest of team owner
During a closed-door meeting on Oct. 17, Houston Texans team owner Bob McNair said of the protesting National Football League players: "We can't have the inmates running the prison."
Though McNair apologized for his offensive remarks, the damage had been done: The team owner set into motion a planned protest of the national anthem ahead of Sunday's game against the Seattle Seahawks.
This is what that protest looked like.