Paul Manafort indicted on 12 counts, including conspiracy against the United States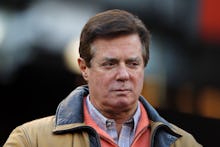 Paul Manafort, President Donald Trump's former campaign chairman, along with one of Manafort's former business associates, were indicted by a federal grand jury Friday on 12 counts, including conspiracy against the United States, according to the office of special counsel Robert Mueller.
Manafort and his former business associate, Rick Gates, mark the first indictment in Mueller's probe into the Trump campaign and its possible collusion with Russia.
According to Mueller's office, the counts are "conspiracy against the United States, conspiracy to launder money, unregistered agent of a foreign principal, false and misleading FARA statements, false statements and seven counts of failure to file reports of foreign bank and financial accounts."
Both Manafort and Gates pled not guilty to the charges.
According to the indictment, Manafort and Gates "generated tens of millions of dollars" in income from Ukrainian political leaders who had ties to Russian President Vladimir Putin and laundered the money "through scores of United States and foreign corporations, partnerships and bank accounts."
The indictment says Manafort and Gates ran the scheme from 2006 "through at least 2016." That time frame overlaps with Manafort and Gates' tenure with the Trump campaign.
Manafort eventually resigned from the Trump campaign in August, after his ties to Ukraine were revealed.
But Gates — also indicted in the scheme — took up the role of being the Trump campaign's liaison to the Republican National Committee, according to a CNN report at the time.
Manafort has been under investigation for money laundering and failing to disclose he lobbied on behalf of a foreign government.
Mueller has been conducting the investigation since May, casting a shadow over Trump's first year in office.
Mueller has interviewed key Trump campaign and White House aides to determine whether there was collusion and, if so, whether there was an attempt to cover it up.
Trump lashed out on Twitter after news that indictments were coming broke, trying to deflect eyes to Hillary Clinton and calling on his Department of Justice to "DO SOMETHING!" about Clinton.
Oct. 30, 2017 2:18 p.m.: This story has been updated.