Kevin Spacey, accused of predation by actor Anthony Rapp, entwines apology with coming out as gay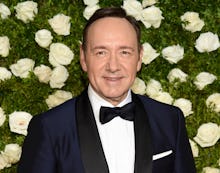 Accused of having made sexual advances towards a 14-year-old boy more than three decades ago, actor Kevin Spacey released a statement early Monday to announce that he is gay — a response that many feel gives credence to dangerous tropes about gay men.
In an account published by BuzzFeed News, actor Anthony Rapp claimed that a 26-year-old Spacey once made a sexual advance by climbing atop him at a party when Rapp was just 14.
In response, Spacey, now 58, released a statement hours later confirming one of Hollywood's worst-kept secrets: that after having relationships with both men and women throughout his life, he now chooses "to live as a gay man."
"I want to deal with this honestly and openly and that starts with examining my own behavior," Spacey wrote.
But despite his claim that he was "beyond horrified" to hear Rapp's version of events and his offer of the "sincerest apology for what would have been deeply inappropriate drunken behavior," some argue that Spacey's response functions as a dangerous conflation of homosexuality and lewd sexual conduct.
According to the Southern Poverty Law Center, the hard-line religious right used the gay-man-as-pedophile trope to stoke anxieties about the gay community some 40 years ago. Discredited psychologists and groups with names like the American College of Pediatricians would frequently peddle bunk studies suggesting that "the research is overwhelming that homosexuality poses a [molestation] danger to children." Many of these notions, despite being thoroughly discredited, are still used by anti-gay organizations as a means of furthering their agendas.
The troves of junk science linking homosexuality to pedophilia are part of the reason the outcry to Spacey's apology has been so widespread.
On Twitter, Vanity Fair film critic Richard Lawson said that Spacey's apology "exposes the gay community to a million tired old criticisms and conspiracies."
"The distance we've had to walk to get away from the notion that we're all pedophiles is significant," he wrote. "For a famous person to deflect these accusations with a long-in-the-making coming out is so cruel to his supposed new community it stings."
Podcast host and columnist Dan Savage offered a similar rebuke of the apology's contents.
"Nope to Kevin Spacey's statement. Nope," he wrote. "There's no amount of drunk or closeted that excuses or explains away assaulting a 14-year-old child."
Many have also criticized the media's breathless coverage of Spacey's coming out as irresponsible in light of the severity of the accusations lodged against him.
"Actor Kevin Spacey declares he lives life as a gay man," declared one headline from Reuters. "Kevin Spacey announced Sunday night that he will 'live as a gay man,'" read another from the New York Daily News.
In a Monday tweet, Guardian reporter Julia Carrie Wong suggested that media outlets had eaten up what had ultimately been a "cynical ploy" by Spacey to "use his coming out to deflect abuse allegations."
"I mean, of course it's working," she continued. "Whoever came up with the strategy knew how newsrooms operate and editors think."