Donald Trump's tweet trying to tie Obama to Fusion GPS is 100% wrong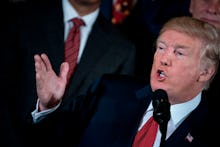 President Donald Trump falsely tied former President Barack Obama's campaign to Fusion GPS, the research firm behind the controversial Trump-Russia dossier, Monday.
Trump tweeted that the Obama campaign paid $972,000 to the firm — a 100% false claim that came minutes before Trump's former campaign chairman Paul Manafort got in an SUV to turn himself in to federal authorities to face criminal indictment.
Trump's erroneous tweet appears to be a mischaracterization of a report in the Federalist — a conservative news outlet — which said the Obama campaign paid $972,000 to the law firm Perkins Coie.
Perkins Coie is the same law firm retained by Hillary Clinton's campaign and the Democratic National Committee. And it's the same law firm that hired Fusion GPS, which went on to make the dossier alleging that the Trump campaign colluded with Russia.
The Federalist's story attempts to create a spurious correlation between Obama and the dossier.
However, law firms have many clients, and the Federalist provided no evidence that the Obama campaign arm had anything to do with the dossier.
The story is one of a number of conservative media outlets that was attempting to gin up controversy surrounding the dossier ahead of the Manafort indictment.
Manafort and his former business associate Rick Gates are the first to be indicted in special counsel Robert Mueller's investigation into the Trump campaign's possible Russian ties.