5 questions as Paul Manafort turns himself in after indictment in the Trump-Russia investigation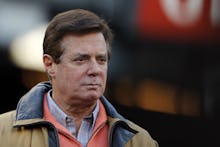 Welcome to Mic's daily read on Donald Trump's America. Want to receive this as a daily email in your inbox? Subscribe here.
Every day, we bring you a different dispatch on Trump's America. Today's focus: Paul Manafort. A preview of the week is below.
Monday's dispatch: 5 questions as Paul Manafort is indicted in Trump-Russia investigation
On Monday morning, former Trump campaign chairman Paul Manafort was told to surrender to federal authorities after special counsel Robert Mueller filed charges following five months of investigation into whether Donald Trump's campaign colluded with Russia. Manafort turned himself in to authorities on Monday morning. His former business associate, Rick Gates, was also indicted.
The indictment comes two days after the one-year anniversary of then-FBI Director James Comey releasing the letter that polling analysts believe won Trump the election.
It is not clear what charges were filed against Manafort. But this moment represents a major step forward in Mueller's investigation. And it could be the first of more charges.
The news is revealing deep partisan divides. Democrats are eager to see the investigation advance. Many Republicans view the investigation as a "witch hunt" while others are withholding judgment.
Here are five questions we have as we watch developments unfold:
1. Why Manafort and why first? Manafort has long been suspected of ties to Russia. His financial ties to Ukrainian and Russian interests have been well-documented. But because Mueller's charge allows him to investigate whatever crimes he comes across, it was not certain he would be the first indicted. By indicting Manafort first, Mueller could be looking to draw information out of him to use against others he is investigating.
2. Is this the end? Or the beginning? Because Mueller and his team are notoriously secretive, we can only understand their motivations through rare public actions and leaks. This is one of the former. Why Manafort was indicted and on what charge(s) will send a signal about whether more charges are to come, or whether the inquiry is wrapping up.
3. How will Trump respond? The president was anxiously awaiting the indictment news. He tweeted attacks on the Russia investigation throughout Sunday. There is increasing concern Trump will fire Mueller if the reported indictments or further actions by the special counsel take aim at the White House.
4. How will Republicans respond? With the power in the House and Senate, Republicans may be in the hot seat as Mueller's inquiry releases indictments and public findings. The House Intelligence Committee's Russia investigation has been seen as highly partisan, while the Senate investigation has produced no news about alleged Trump-Russia collusion.
5. How will this news impact legislative and policy priorities? The GOP is set to introduce tax reform in the House this week. The Affordable Care Act's open enrollment in the individual health insurance market begins Wednesday — an event Trump has actively sabotaged.
Today's question: What does Manafort's indictment mean for the Trump-Russia investigation?
Please email us your thoughts at trumpsamerica@mic.com.
This week in Trump's America:
Trump's approval at all-time low in NBC/Wall Street Journal poll. Thirty-eight percent of voters approve of Trump's job performance. His support has fallen between two core demographics of his base: white voters (fell from 51% to 47%) and white voters without a college degree (58% to 51%).
Trump's Asia trip. Trump will leave on Friday for a five-country, 12-day trip across Asian countries. He will hammer America's national security — talking denuclearization of North Korea and economic security, potentially renegotiating trade deals — in his continental swing.
Tax reform ahead. With a budget that cleared the House and Senate, Republicans are looking to announce their tax reform plan Wednesday in the House. So far, the GOP looks so desperate for a win they are not letting internal divisions over the deficit or tax cuts on the wealthy divide their focus.
Arguments are emerging on the left saying cutting the corporate tax rate — a top Republican goal — won't grow the economy, while conservatives are saying that tax cut will increase worker pay.
Federal Reserve pick to be announced. Trump is expected to name his nominee to oversee U.S. fiscal policy this week. Here's what you need to know about the candidates.
Tech company testimony. Google, Facebook and Twitter attorneys will testify before Senate and House lawmakers on Tuesday and Wednesday. They'll face questions about paid Russian advertising and bot-networks used to influence the 2016 presidential election.
Politico dropped a must-read profile on former House Speaker John Boehner, where he decries the state of the Republican Party.
Remember how Congress said it may ban bump stocks? A month after 500 people were shot in Las Vegas with the modification that makes guns fire automatically, the push has stalled.
The white nationalist rally in Tennessee was canceled. Saturday's event ended after a massive counterprotest. Mic talked to locals who used humor and humiliation to silence the white supremacists.
Puerto Rico deal. Puerto Rico Gov. Ricardo Roselló has said the island should cancel the $300 million deal to repair Puerto Rico's electrical grid. The deal was made with a two-person firm based in the hometown of Interior Secretary Ryan Zinke. Zinke has denied any impropriety.
John Kasich is running in 2020. It may not be official, but New York magazine breaks down how his campaign to take on Trump is coming together.
ICMYI: How Trump has quietly been rolling back protections for survivors of sexual assault. "Simply put, women's lives are worse now than they were before Trump took office," a Planned Parenthood Federation of America official told Mic.
Today's MicBite:
More women are coming forward with stories of sexual assault and harassment, part of something academics are calling the "ripple effect." Tap or click the video below to watch.