OK, it's time to talk about Eleven's punk rock makeover during 'Stranger Things' season 2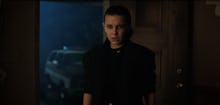 If you are, like us, sensible time-passers, you've watched a whole hell of a lot of Stranger Things since season two was released on Friday. And we would guess that regardless of whether you actually watched all nine episodes of the second season — like we did, admittedly — you're feeling some things right now.
(Editor's note: Spoilers for Stranger Things season two ahead.)
Depending on where you are in the season, some people you really, wholeheartedly love on the show may be in danger, or on the brink of it. Or maybe you just left off at a part with a giant twist. There's really no telling with this show.
To avoid too many spoilers, we'll just say we're here to talk about Eleven's glow up. During the second season, for reasons we'll slightly allude to, Eleven got herself a new look — and it's wonderful.
When we first meet her during the season, she's looking cute. Her hair's grown out into Shirley Temple curls. She's living with Sheriff Hopper in the woods, so she's rocking a bit of menswear: a grey sweatshirt and overalls, an oversized flannel straight from Hopper's closet, baggy jeans and a green utilitarian jacket.
She basically dresses like a middle school boy, though it is better than a hospital robe, or that little girl's dress, we have to say. And we love an androgynous look on Eleven.
But come the seventh episode, Eleven glows way up. She ends up hanging with a group of outcasts, one of which has a particular connection to her.
These misfits all look like extras in a Cyndi Lauper music video, with partly-shaved heads, dyed hair and mohawks.
So to fit in better with their crew, Eleven gets a makeover. She walks into a group meeting like looking like this:
And leaves looking like this:
With slicked-back hair, a large men's jacket, cuffed jeans and leather bracelets, Eleven comes out looking like she just left the set of a Robert Palmer video, or a member of a moody punk band.
Just true badassery, to match the badassery of Eleven.
Hopper is a fan of the makeover, telling Eleven he doesn't hate this "MTV punk" look on her. To that, Eleven calls it "bitchin'," which we'd say is accurate.
On Twitter, plenty of people were fans of this new look too.
What's particularly cool about this transformation is that it aligns with the actress who plays Eleven, Millie Bobby Brown. Over the past year or so, she has evolved into a fashion force, sitting front row at shows like Calvin Klein.
Get down with your bad self, Eleven.