Who is Rick Gates, the second person charged in special counsel Mueller's investigation?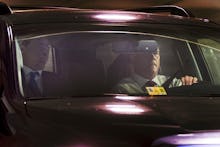 On Monday morning, the nation awoke to reports that special counsel Robert Mueller's investigation into whether the Trump campaign colluded with Russia had ensnared its first two targets: Paul Manafort and Rick Gates.
And while much is known about Manafort, who in August 2016 resigned from his post as President Donald Trump's campaign chairman over his suspicious business dealings, far less is known about Gates, Manafort's longtime associate and junior partner whom the New York Times characterized as his "protégé."
Though both men worked for the Trump campaign, their relationship began about 30 years ago, long before the former reality television star announced his presidential campaign. According to the New York Times, the two men met when Gates was an intern for Black, Manafort, Stone, Kelly, a consulting firm that ran Republican political campaigns, and then, after winning those campaigns, lobbied the politicians it helped put into power. Gates would end up following the former Trump campaign chairman to his new company, Davis Manafort, in 2006. When Rick Davis left the company to work with former Republican presidential hopeful John McCain, Gates took over Davis' responsibilities in Eastern Europe.
At that point, Davis Manafort had its fingers in several key investments in the region: Around the time the company was working to reshape Viktor Yanukovych, Ukraine's Moscow-aligned former president, into something more palatable to Western sensibilities, Davis Manafort also made money through the strategic purchase of small companies in Eastern Europe and Russia. The latter venture was backed by Oleg Deripaska, an aluminum magnate who would be denied a visa into the United States over alleged crimes that may include ordering the murder of a banker in 1995.
It's the relationships that Davis Manafort cemented during this period that likely led to Paul Manafort's ouster from the Trump campaign, which he would join in the spring of 2016 in order to convince itchy Republican National Convention delegates to endorse his candidate. According to the Times, Jared Kushner, the president's son-in-law expressed concern over a bombshell report that surfaced a secret ledger in Ukraine, which showed $12.7 million in previously undisclosed payments to Manafort. A separate report in the Associated Press found that Manafort and Gates were involved in an undisclosed lobbying effort in 2012, when the two reportedly helped funnel $2.2 million to Washington lobbying firms in an apparent effort to influence American foreign policy in favor of the pro-Putin Yanukovych.
But though his mentor had been ordered to leave the campaign, Gates remained. From the Trump campaign, he would go on to work for the RNC and then, later, America First Policies, which describes itself as "a nonprofit organization supporting key policy initiatives that will work for all citizens in our country and put America first," echoing Trump's campaign promise. According to the Daily Beast, Gates was making trips to the White House as recently as June.
On Monday morning, Gates was indicted on 12 counts, which, according to Politico, include "conspiracy against the United States, conspiracy to launder money, being an unregistered agent of a foreign principal, false and misleading FARA statements, false statements and seven counts of failure to file reports of foreign bank and financial accounts."