Food scientist Nathan Myrhvold figured out how to keep everything bagel toppings from falling off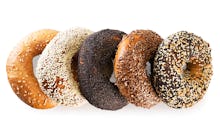 Few things are more disappointing than picking up a fresh, chewy bagel only for the toppings to scatter everywhere — poppy seeds, sesame seeds, flecks of salt flying onto the floor — leaving your bagel slightly more naked and much less flavorful.
Apart from being a nuisance for bagel lovers, seed spillage can also lead to trouble for bagel shops. In New York City, one bagel shop accrued a $1,650 fine from the Department of Health for a large accumulation of seeds found near mouse droppings. But we digress.
If there's anyone who might know the secret to keeping toppings on bagels, it's Nathan Myhrvold, former chief technology officer at Microsoft turned food scientist and co-author of the forthcoming five-part cookbook Modernist Bread. The 2,642-page cookbook-slash-encyclopedia has 1,200 recipes, including an innovative take on preventing seed spills: a starch-based slurry coating applied before garnishing the bagel with seeds.
"We probably tried seven to eight different types of starches before we found the one that worked," Myhrvold said in an email. "Once we found the starch that worked best we then had to play with the water-to-starch percentages. If you add too much, the slurry drips off the bagel, but if you add too little, it's like working with glue," he said, noting that his team wasn't the first to try to solve the seed spill problem. When I bit into an everything bagel prepared by Myhrvold's team, not a single seed dropped from the bagel onto my lap.
The super sticky, edible slurry coating also allows you to use heavier garnishes — like shredded coconut, cocoa nibs, sunflower seeds and walnuts — that are larger than tiny seeds, Myhrvold noted.
Looking for an everything bagel seasoning mix? Myhrvold's version includes black and white sesame seeds, dried onion, dried garlic, celery seeds, poppy seeds and caraway seeds. "They all have different personalities but these personalities all get along so well. It's the perfect marriage of flavors in each bite," he noted.
If you've ever wanted to optimize your bagel seed situation, grab your favorite fresh, plain bagels (or bake your own if you're ambitious) and try Myhrvold's recipe for the starch slurry coating below.
Editor's note: Recipe slightly modified and reprinted with permission from Modernist Bread.
Starch slurry coating
Ingredients:
Preparation:
1. Mix the modified tapioca starch into the water using an immersion blender until there are no starch clumps.