Celebrity Halloween Costumes 2017: The good, the bad and the "well, they certainly tried that"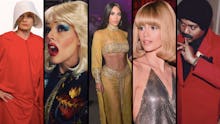 If you were on social media for even 10 seconds this weekend, you know that lots and lots of celebrities were going crazy over Halloween. Plenty came up with more than one costume and Instagrammed the night away. And to think, it's not even Halloween yet.
Thankfully, we're not seeing any costumes that are offensive this year, which is so refreshing. But that's not to say every costume has been good. Plenty have been rather phoned in, to put it lightly.
We'll be adding more costumes as they appear, but here's a list of the good, bad and the, well, "they tried it" celebrity Halloween costumes thus far.
The Good
Kim Kardashian West as Cher
Kardashian West was not messing around this Halloween, going as three different music icons, starting with Cher.
Kim Kardashian West as Aaliyah
Kim Kardashian West as Madonna, with sister Kourtney Kardashian as Michael Jackson
Zoë Kravitz and boyfriend Karl Glusman as Fight Club characters
We live for an not-obvious movie reference.
Ramona Singer as Britney Spears
Look up "legendary" in the dictionary, and you'll see these images.
Kaia Gerber as Michelle Pfeiffer in Scarface
We really don't even deserve this.
Will Poulter as Sid from Toy Story
Don't act like you hadn't seen the resemblance before.
Adele as a very beautiful clown
A queen, as always.
Christian Siriano and Brad Walsh as the crystal King and Queen
Luxury.
Demi Lovato as Selena
Big props for accuracy on this one.
Gwyneth Paltrow as "the head" in Seven
We'd never guess that this would be her costume, so props for unpredictability.
Kristen Bell as Elsa in Frozen
A bit obvious, given Bell voices Anna in the movie, but this is a cute dress.
Nas as Richard Pryor
Loving the originality.
Busy Philipps as Hedwig from Hedwig and the Angry Inch
That makeup is divine.
The Bad
Lala as a bunny
Just too simple.
Adam Levine as ... a woman?
What is this?
Isla Fisher as a unicorn after a long, long night
This is something we dressed up as in college.
Karlie Kloss as Marilyn Monroe
Just boring, though she does look gorgeous.
They tried it
Ryan Seacrest and Kelly Ripa as handmaids
It's not that this is a bad costume, it's just that we already feel like it's so overdone this year.
Lauren Conrad as Cruella de Vil
If you want to commit to an outfit like this, you need to get the right coat.
Rita Ora as Poison Ivy
Who? That's all.
Colton Haynes as a f*cked up Marge Simpson
If you've got to sponsor your Halloween costume, that says a lot. Have some respect for Marge.