How the meat-loving city of Ghent became the veggie capital of Europe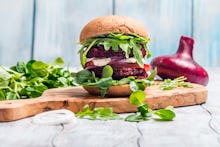 A few dozen people crowd the platter-filled tables at Komkommertijd, a vegan buffet on the outskirts of the spired, medieval city-center of Ghent, Belgium. It's a Thursday evening but the restaurant has a Friday-night crowd, as clanking plates and a mishmash of Dutch, French and Danglish chatter accompanies a few organic beers, some chickpea curry, beetroot stew and far more coconut cakes than one should consume in a single sitting.
This isn't the stereotypical image of French-fry-riddled, ham-happy Flanders, a region most famous for beer, beef and beef stewed in beer. But there's nothing typical about Thursdays in Ghent, a day locally known as Donderdag Veggiedag — Thursday Veggie Day — which sees over 90 restaurants, 20 hotels and 50% of the city's population observing vegetarianism for the day.
Before Veggiedag launched, meatless options in Ghent were limited or even unknown. Like many Flemish cities, there was probably little more than mayo-soaked fries, a halloumi sandwich at a kebab shop or a salad and baked potato side dish at a rib joint — and even that wasn't guaranteed to be meat-free.
This all changed when Ghent's Ethical Vegetarian Alternatives introduced initiatives that veggie-fied the the city. Initially tasked with promoting plant-based eating throughout Flanders, the environmental organization decided to create comprehensive vegetarian restaurant guides for cities across the region and to enact a specific "V-Day" to introduce a vegetarian diet to the meat-obsessed Flemings.
Melanie Jacques, an EVA organizer, said the organization had noticed in surveys that Flemish people had increasingly expressed a willingness to eat less meat, with many convinced that vegetarianism would grow even more popular in the future.
"People know it's important to eat less meat," said Jacques. "But people don't have the knowledge about the cooking and the ingredients."
In 2005, the Flemish government offered financial support, and, by 2007, the EVA, in coordination with the city of Ghent, instituted the first Donderdag Veggiedag as an attempt to reduce meat consumption, support the environment, embrace ethical eating, and, really, to teach people the ins and outs of vegetarianism.
To do this, the EVA began mapping the city's veg-friendly locales — every restaurant, hotel, supermarket and friterie that served vegetarian dishes. (There's a whole section on Ghent's tourism website that highlights places that fry their potatoes in vegetable oil.) Once restaurants saw the map, they too began to add vegetarian and vegan options to their menu. Today, the veggie map includes well over 100 eateries throughout the city.
The city has also invested tens of thousands of dollars into vegetarian chefs, teaching local chefs how to cook vegetarian and, perhaps most importantly, teaching children and their parents the secrets behind vegetarian cooking — and these courses are free. For a city that hopes to be completely carbon neutral by 2050 (meaning the city wants to remove as much carbon dioxide from the atmosphere as it emits) reshaping the eating habits of the city's children has been the most important investment of all. City schools serve vegetarian dishes on Thursdays, and students, along with parents, are encouraged to attend one of the city's 40 free classroom cooking workshops. On top of that, teachers are also given a course dedicated to recipes and tools to promote vegetarian and vegan cooking in the classroom.
"We've seen that those active in veggie days move further and further into vegetarianism. Polls over five years show that those who participate in Thursday Veggie Day spend an average of three days per week as a vegetarian," said Jacques. Thanks to the campaign, one in 10 Flemish people are vegetarian three days per week.
On Veggie Day, vegan buffets like Komkommertijd and Lekker Gec enjoy some of the largest crowds, perhaps because nothing lures Ghent's large student population into a restaurant quite like a wildly affordable, unlimited supply of hearty lentil soup, tofu stir fry and vegan chocolate cake.
High-end restaurants are constantly taking creative approaches to modern vegetarian cooking. The ever-popular Pakhuis chooses a strictly vegetarian menu every Thursday, when chef Koen Lefever serves up unconventional, hearty comforts like Hokkaido pumpkin tart or a "rack of Tzay," perhaps the least traditionally vegetarian-sounding dish outside of "kosher, vegan pork chops." At Lof, chef Joris Korsten prepares an artistic five-course vegan dinner, complete with vegan wine pairings. One of Ghent's only Michelin-star restaurant, Vrijmoed, has a seven-course vegetarian menu that recently won "best veggie menu" in the Belgium-Netherlands-Luxembourg region.
The EVA estimates that 50% of those living in Ghent observe the Thursday tradition. To put the environmental impact of that percentage into perspective, according to the Environmental Defense Fund, if 50% of Americans substituted a single meal of meat per week, the carbon dioxide savings would be equal to removing over 250,000 cars from U.S. roads. For an entire three-meal day, the carbon dioxide savings would triple to 750,000 cars off the roads.
It's environmental statistics like this, along with the health dangers of a meat-heavy diet, that are tempting cities across the U.S. to implement their own version of veggie days. Meatless Monday, launched in association with the Johns Hopkins Bloomberg School of Public Health, hopes to be the catalyst to steer Americans towards a more plant-based diet. Thus far, cities like Los Angeles, Washington, D.C., and Aspen, Colorado, have signed onto the campaign, but none have been able to replicate the same success as Ghent.
Across the globe, dozens of cities and countries have launched their own veggie days (12 with the direct assistance of the EVA, but it's difficult to gauge how many others have used their resources). The Brazilian Vegetarian Society, with the help of the EVA, has São Paulo offering one million vegetarian meals twice a month, which has seen a meat reduction of 88 pounds of meat per month. Belgium's neighbors in France, the Netherlands and Germany have launched their own weekly veggie days. In the United Kingdom, Paul McCartney helped launch Meat-Free Mondays. Hong Kong's Green Monday movement, an effort to reduce carbon emissions, has had over 1,000 restaurants increase their vegetarian options. And Israel's Meatless Monday has been adopted by 21% of the population.
Even international brands like Belgium-based Le Pain Quotidien are investing heavily in a more vegetarian and vegan menu.
"Thirty percent of our menu will be vegetarian within the next two to three years," said Denis Drossart, the head of brand at Le Pain Quotidien in Brussels. "We believe eating vegetarian is delicious. It's better for you, and it's better for the planet. Our bestsellers — the avocado toast and the mushroom toast with a spicy cashew spread — are our bestsellers because they're delicious, not because they're vegan."
Within almost a decade, Ghent has gone from a meat-laden to the veggie capital of Europe, with 90 restaurants with EVA-recognized veg-friendly menus and another dozen organic grocers and markets. In October alone, the city's event calendar features over 40 vegetarian-related activities, ranging from Mexican cooking classes to constructing raw cheese cakes. All of this in a city of 250,000 whose beloved snack is 14-month-aged ham.
In just eight years, the veggie scene has extended beyond Thursdays. Ghent hosts the most vegetarian restaurants per capita of any city in the world. This accomplishment is on display Saturdays at DOK, an artist collective whose weekly soirees have become a must-visit event, the menus are all veggie. One food stall, operated by refugees, serves up a vegetarian Syrian platter, complete with falafel, eggplant and hummus. Another features a variety of vegan cheese dishes like vegan grilled cheese and a vegan cheesecake. There's no boudin, no ham and not a corndog in sight.