A 'Family Guy' joke about Kevin Spacey goes viral after accusation of sexual advances toward minor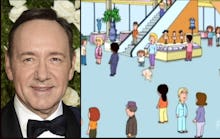 For the second time in a month, an old joke from comedian Seth MacFarlane has gained new meaning following allegations of sexual misconduct by a powerful man in Hollywood.
On Sunday evening, BuzzFeed published a story in which Star Trek: Discovery actor Anthony Rapp accused House of Cards star Kevin Spacey of making sexual advances toward him when Rapp was only 14 years old.
In response, Kevin Spacey issued a statement on Twitter in which the two-time Oscar winner said he did not "remember the encounter" between him and Rapp, and instead seemed to explain "stories" about his "inappropriate behavior" as a consequence of living life as a closeted gay man.
In the immediate aftermath of BuzzFeed's story and Spacey's response, Twitter users began to circulate a joke about Kevin Spacey's alleged attraction to very young boys from the fourth episode of Family Guy's fourth season. In it, Stewie Griffin, a diabolical baby who can talk, runs naked across the floor of a department store screaming, "Help, I've escaped from Kevin Spacey's basement, help me!"
The episode, which originally aired in June 2005, was written by Gene Laufenberg and directed by Sarah Frost. MacFarlane, Family Guy's creator and showrunner, also voices Stewie Griffin.
This isn't the first time an off-the-cuff MacFarlane joke has come across as a wink-and-nod to alleged misconduct in Hollywood. In the wake of the New York Times report surfacing decades of accusations of sexual misconduct against Harvey Weinstein, many pointed to a joke MacFarlane made while hosting the Academy Awards in 2013 as a sign that the comedian was using the guise of humor to reveal truths about power in Hollywood.
"Congratulations, you five ladies no longer have to pretend to be attracted to Harvey Weinstein," MacFarlane said after reading the names of the women nominated for best supporting actress.
The joke seemed to reference Weinstein's alleged threats that he would ruin actresses' fledgling careers if they did not have sex with him.