Former Trump foreign policy adviser pleads guilty to lying to the FBI about his Russia ties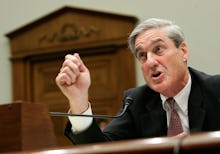 A former foreign policy adviser to President Donald Trump's campaign has pled guilty to lying to the FBI about his work with Russia, the Justice Department announced on Monday.
George Papadopoulos' admission marks the first known guilty plea in special counsel Robert Mueller's ongoing investigation into the Trump campaign's possible collusion with Russia.
Papadopoulos lied in a January interview with the FBI about his interactions with a professor who had "substantial connections to Russian government officials" and claimed to have "dirt" on Hillary Clinton, according to court documents unsealed on Monday.
The documents go on to say that Papadopoulos, "engaged in extensive communications over a period of months with the professor regarding foreign policy issues for the campaign, including efforts to arrange a 'history making' meeting between the campaign and Russian government officials."
Papadopoulos was arrested on July 27 and "met with the government on numerous occasions to provide information and answer questions," according to the court documents, This suggests he's cooperating with the government on the ongoing Russia investigation.
According to the court documents Papadopoulos faces a maximum sentence of five years' imprisonment and a fine of $250,000.
News of Papadopoulos' guilty plea came hours after Trump's former campaign chairman Paul Manafort was indicted on 12 counts, including conspiracy against the United States, conspiracy to launder money and being an unregistered agent of a foreign principal.
Trump has sought to downplay the news of the indictment, saying this morning that Manafort's alleged crimes occurred before he "was part of the Trump campaign."
However, the FBI indictment states Manafort was running the scheme "through at least 2016," when he worked for the Trump campaign.