With #MyJobShouldNotIncludeAbuse, models reveal sexual harassment's impact on the fashion industry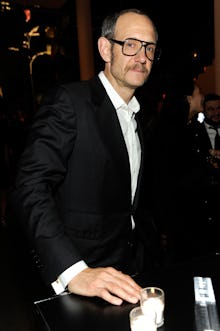 One of the few good things that has come out of Harvey Weinstein's fall from fame is that more and more people in industries beyond film are speaking up about sexual harassment, abuse and assault. The fashion industry is definitely now one of those industries.
Through a hashtag akin to #MeToo — which allowed people to share that they had been victims of harassment or abuse — called #MyJobShould NotIncludeAbuse, more people in the fashion industry are speaking up about the abuse that has existed in fashion for years.
It all began with one model, Cameron Russell, who was aware that harassment and abuse had run rampant, and set out to encourage women to speak up and let their stories be known.
"Hearing about #HarveyWeinstein this week has sparked conversations about how widespread and how familiar his behavior is," Russell wrote on Instagram in early October. "We talked about how hard it is to share stories of assault. When they are the norm, calling them out can feel disruptive and unprofessional."
To counteract this, Russell encouraged people to anonymously share their stories of harassment and abuse in the fashion industry with her via direct message, so she could share them with her more than 100,000 followers on Instagram and beyond. Additionally, she said, if someone would like to share a story not anonymously, they could tag it with #MyJobShouldNotIncludeAbuse.
"We need a way to begin breaking the silence while remaining protected. We are not talking about one, five or even 20 men. We are talking about a culture of exploitation and it must stop," Russell wrote. "If you would like to share publicly, use the hashtag #MyJobShouldNotIncludeAbuse so the industry can see the size and scope of this problem."
In the weeks since Russell's announcement, she has posted dozens of stories that have been messaged to her, with other models, such as Kate Upton, Dilone and Edie Campbell, sharing anonymous stories on their Instagram accounts too. Models like Sara Sampaio, who's modeled for Victoria's Secret, have chosen to share their own stories as well.
The hashtag was weeks into effect before the downfall of fashion photographer Terry Richardson, who finally got publicly punished just last week by a number of magazines and brands that are vowing to never work with him again.
Scroll through just Russell's page, though, and you can see that this is a widespread issue within the fashion industry that's far deeper than just Richardson. It's photographers, agents and editors taking advantage of models, assistants and many others.
As top model Teddy Quinlivan shared with Mic in an interview, she herself has faced harassment and assault in the industry.
"When I was living my life as cisgender, there was a ton of horrible, really highly inappropriate things that happened to me in the fashion industry," Quinlivan said. "I just think it's important for me to also talk about the fact that there is a lot of crazy shit in terms of power plays and sexual harassment that goes into this business. I've experienced a lot of it. I want to use my platform now to also talk about the fact that this bullshit doesn't just happen in Hollywood. It's happening in fashion, to young girls. It's happened to me."
And that's just one story, with Russell's hashtag indicating hundreds more shared on Instagram. In fact, the response has been so overwhelming that Russell has had to hand off some of the duty of reposting anonymous stories to other friends in the industry. But that being said, she's not slowing down.
In another Instagram post, Russell has made clear that she and her peers are looking at major players in the fashion industry to take note, and believe the stories.
"We know what is happening in fashion. We tolerate it and ignore it and excuse it every day. Coming face to face with so many of the people affected is opening to an impossible grief," Russell wrote. "We all know who the perpetrators are and we continue to work with them. STOP. Advertisers and magazines, stop hiring these people. Agencies, stop sending them talent. Stop today. Do not wait until lawyers get involved. Do the right thing because the wrong thing is horrific."
Now all we can do is see exactly how fashion responds.