Stephanie Montez, transgender woman, found shot and killed in Texas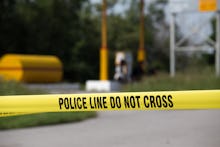 Stephanie Montez, 47, was found shot and killed just outside of Robstown, Texas, on Oct. 21 — making her the 22nd known transgender person killed so far in 2017.
Authorities and local media initially misgendered Montez, and it wasn't until days after initial reports of her death that some local trans advocates became aware that Montez was a trans woman, Kathy Huff, president of PFLAG Corpus Christi, said in a phone call Monday. She first found out about Montez's death in a Facebook group for the local trans community.
"This one hit close to home," Huff said. PFLAG Corpus Christi had already been planning on holding a trans rights rally in Corpus Christi on Saturday, but now the rally will also honor Montez, Huff said.
The goal of Saturday's event, which was first planned after the murder of Ally Lee Steinfeld, a transgender teen in Missouri, is to spotlight violence against the trans community and call for legislative changes in Texas.
"We are calling for not only an end to the violence against trans women but also for gender identity to be added to the hate crime laws in Texas as well as anti-discrimination laws along with sexual orientation," Huff told Mic in an email.
Brittany Ramirez, Montez's friend of about 30 years, told the Corpus Christi Caller-Times that Montez had performed in drag shows and loved to dance.
"She was one of the sweetest people you'll ever meet," Ramirez said. "She just had a great outlook on life. She was very supportive of everyone."
Capt. Monica Rios of the Nueces County Sheriff's Office told the Caller-Times that the investigation into Montez's death is ongoing. The sheriff's office has not yet responded to Mic's request for comment.
For Huff, honoring Montez means speaking up and being "public" about her death — but she added that it's also important to remember who Montez was beyond the circumstances of her death. "She's more than just a number, she's a human," Huff said.
Correction: Oct. 31, 2017
A previous version of this article misidentified the name of the town outside of which Montez's body was found. It is Robstown, Texas.