What the "conspiracy against the US" and other charges against Paul Manafort and Rick Gates mean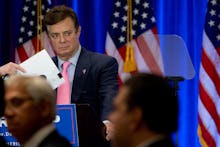 In the first criminal charges arising from the ongoing investigation into possible collusion between Russia and the Trump campaign, special counsel Robert Mueller on Monday indicted former Trump campaign manager Paul Manafort and Rick Gates, Manafort's former business associate.
The charges against Manafort and Gates, who were each indicted on 12 counts, include "conspiracy against the United States, conspiracy to launder money, [acting as an] unregistered agent of a foreign principal, false and misleading [Foreign Agent Registration Act] statements, false statements and seven counts of failure to file reports of foreign bank and financial accounts."
Here's what each of those charges mean.
Conspiracy against the United States
The charge of conspiracy against the United States, which is laid out under section 371 of the U.S. criminal code, reads in part as: "two or more persons conspir[ing] either to commit any offense against the United States or to defraud the United States or any agency thereof in any manner or for any purpose."
Defrauding the U.S., according to the Department of Justice, constitutes activities that "cheat the government out of money or property," "interfere [with] or obstruct legitimate government activity" and/or "make wrongful use of a governmental instrumentality."
A conspiracy charge, punishable by a fine or up to five years in prison (or both), requires at least one of the conspirators to "do any act to effect the object of the conspiracy," meaning there's proof of an "overt act" in addition to the intent to conspire.
Past cases of conspiracy against the U.S. have included everything from financial indiscretions to antigovernment violence. For example, Bernard von NotHaus was convicted of conspiracy in 2011 after minting his own counterfeit U.S. currency; the 2007 conspiracy conviction of a Minnesota couple arose from the mismanagement of a not-for-profit charter school; and three North Carolina men were charged with conspiracy after "putting together a plan to resist [the U.S. government] with pipe bombs, grenades and other explosives." Those men were said to believe in the Jade Helm conspiracy theory, which claims the U.S. government is using the military to impose martial law.
In Manafort and Gates' cases, the charges are centered around work that Manafort's political consulting firm, Davis Manafort Partners Inc., undertook with the Ukrainian government and the pro-Russia political Party of Regions. The work allegedly generated "tens of millions of dollars in income," the indictment notes, which Manafort and Gates then hid from the U.S. government to avoid paying taxes — thus the "cheat[ing] the government out of money" as the conspiracy charge requires.
The indictment further alleges that Manafort used his hidden wealth to fund a lavish tax-free lifestyle that included multi-million-dollar real estate purchases. The former campaign manager then took out loans using the real estate properties as collateral, "thereby obtaining cash in the United States without reporting and paying taxes on that income."
In addition to the defrauding charges, Manafort and Gates are accused of presenting government agencies with false information, knowingly failing to make necessary financial disclosures and violating the Foreign Agent Registration Act.
Conspiracy to launder money
The more specific conspiracy charge against Manafort and Gates is conspiracy to launder money. Money laundering, according to Cornell Law School, "refers to a financial transaction scheme that aims to conceal the identity, source and destination of illicitly obtained money."
The charge of conspiracy to launder money is laid out in section 1956 of the U.S. code. The indictment alleges that Manafort and Gates plotted to "transport, transmit and transfer monetary instruments and funds" in and out of the country "with the intent to promote the carrying on of specified unlawful activity" as well as "conduct financial transactions affecting interstate and foreign commerce, knowing that the property involved in the financial transactions would represent the proceeds of some form of unlawful activity."
To hide payments from the Ukrainian government from U.S. authorities, the indictment claims, Manafort and Gates laundered their funds through various U.S. and foreign-based "corporations, partnerships and bank accounts." A total of $75 million reportedly "flowed through" Manafort's offshore accounts, of which he used $18 million "to buy property, goods, and services in the United States"; Gates, meanwhile, is accused of transferring $3 million from the offshore accounts into his personal accounts.
Unregistered agent of a foreign principal
Manafort and Gates also stand accused of acting as unregistered agents of a foreign principal. Under the Foreign Agents Registration Act of 1938, Americans who are engaged in activities on behalf of a foreign government must register with the U.S. Department of Justice.
Under FARA, which was first enacted in response to Nazi propagandists operating covertly in the U.S., registrants must divulge their foreign employer and the nature of their activities as well as "conspicuously disclose" that any materials they distribute are on a foreign principal's behalf, according to the Associated Press.
Those exempt from the disclosure, the AP noted, include foreign diplomats, foreign government officials and individuals conducting "solely religious, academic, commercial or scientific activities."
Convictions for unregistered agents are reportedly rare. Prior to the 2003 arrest of an Iraqi immigrant accused of providing Saddam Hussein with information on opposition figures in the U.S., only three people had been charged with the crime and none had been convicted, according to Slate.
Manafort and Gates's Ukrainian work qualified them as agents who would have had to register under FARA, the indictment alleges, as they reportedly engaged in a "multi-million-dollar lobbying campaign" on behalf of the Ukrainian government, the Party of Regions and party leader Viktor Yanukovych, the former president of Ukraine. The two reportedly used a Belgium-based organization, the European Centre for a Modern Ukraine, to lobby on behalf of the Ukrainian regime using a public relations campaign in the U.S. and Europe.
As part of their lobbying efforts, Manafort and Gates are accused of soliciting two Washington-based firms to publicly engage in "extensive lobbying" on the Ukrainian government's behalf, including lobbying members of Congress and their staffs "about Ukraine sanctions, the validity of Ukraine elections and the propriety of Yanukovych's imprisoning his presidential rival, Yulia Tymoshenko." Manafort and Gates also allegedly lobbied "in connection with the rollout of a report concerning the Tymoshenko trial commissioned by the government of Ukraine" that was secretly funded through an offshore account.
None of this information was disclosed to the U.S. government under FARA requirements; rather, Manafort and Gates specifically "developed a false and misleading cover story that would distance themselves and the government of Ukraine, Yanukovych and the Party of Regions" from the European Centre and the two Washington firms, the indictment notes. The pair communicated the cover story through false talking points that claimed the Centre, rather than Manafort, Gates and the Ukrainian government, were solely responsible for any direct lobbying efforts.
The former campaign manager belatedly registered his foreign activities with the U.S. government in June, nearly a year after his work with the Ukrainian government became public.
This charge suggests a similar indictment could be brought against former Trump national security adviser Michael Flynn, who tardily registered as a foreign agent for his work with a company tied to the Turkish government.
False and misleading FARA statements
Manafort and Gates face charges for making false statements to the attorney general. The indictment alleges that when Manafort and Gates were asked whether their Ukraine-connected activities required them to register as foreign agents, they sent letters to the Justice Department in November 2016 and February 2017 that "mirrored" the aforementioned false cover story.
The letters, according to the indictment, claimed in part that Manafort's firm did not conduct meetings or outreach within the U.S. on behalf of the Party of Regions and also asserted that Manafort and Gates "had merely served as a means of introduction" to the European Centre with the Washington firms, among other claims — all of which were false.
Newsweek previously noted that failing to register as a foreign agent only carries criminal penalties if the registrant either willfully failed to register or made a "false statement or omission of fact" in connection with their registration, which suggests Manafort and Gates's false and misleading statements could have helped lead to the additional charges of failing to register.
Failure to file reports of foreign bank and financial accounts
Manafort and Gates face seven counts of failing to file reports of foreign bank and financial accounts between 2011 and 2014.
According to the IRS, Americans who have a foreign financial account — which could be a "bank account, brokerage account, mutual fund, trust or other type of foreign financial account" — whose holdings exceed $10,000 must disclose their account to the government by filing a Report of Foreign Bank and Financial Accounts, also referred to as a FBAR.
Manafort and Gates, the indictment alleges, used multiple foreign accounts in such countries as Cyprus, Grenadines and the United Kingdom for their money laundering scheme, for which they knowingly didn't file FBARs. According to the indictment, Manafort specifically denied having any foreign accounts when asked by his tax preparer over the course of multiple years.