NBC, MSNBC terminate contract with Mark Halperin over sexual harassment claims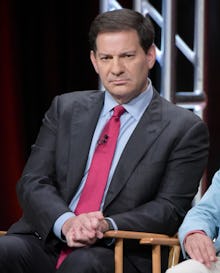 Political journalist Mark Halperin has lost his contract at MSNBC and NBC News over allegations that he sexually harassed women in the industry.
Halperin, a high-profile political reporter who wrote the bestselling book Game Change with fellow reporter John Heilemann, was booted from the network last week following a report in CNN that he sexually harassed at least five women during his time at ABC News.
A spokesperson for the company, calling the allegations "very troubling," said then that Halperin would leave his role as a contributor until the company "fully understood" questions about Halperin's past conduct. That spokesperson on Monday morning confirmed to Mic that Halperin's contract had been terminated.
The accusations of sexual harassment have ricocheted across political media and have prompted a number of other companies to sever ties with the reporter. HBO announced Thursday that it had cancelled a miniseries based on Game Change; Penguin Press similarly announced that it would no longer publish a forthcoming book written by Halperin and Heilemann. On Saturday, Showtime said it would end Halperin's involvement in the series The Circus, which Halperin had co-hosted.
Halperin issued a statement apologizing for his past behavior, and saying that he had changed since going to counseling and taking other measures. He said he had not "engaged in improper behavior" at any subsequent job, and has denied some of the allegations, including that he masturbated in front of a woman.
Since then, more women have come forward alleging mistreatment. Some of those women, including One America News Network correspondent Emily Miller and former CNN producer Eleanor McManus, have made allegations on the record.
As of Monday, at least a dozen women have alleged that Halperin sexually harassed them.