Report: FBI to investigate Whitefish energy contract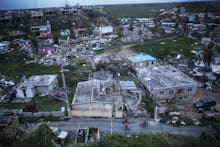 Whitefish Energy's canceled $300 million contract to repair parts of Puerto Rico's decimated power grid is now being investigated by the FBI, according to a Wall Street Journal report published Monday.
The deal with the tiny Montana energy firm, which was agreed upon by the Puerto Rico Electric Power Authority in the wake of the devastation of Hurricane Maria, has raised eyebrows since it was finalized.
The concerns stem in part from the company's small size — it had only two full-time employees on its payroll when the deal was struck — and from its headquarters being located in Interior Secretary Ryan Zinke's hometown.
Reports of the probe come after Puerto Rico Gov. Ricardo Rosselló canceled the contract Sunday, calling it a distraction from efforts to rebuild the island's storm-ravaged infrastructure. Weeks after the hurricane, only 30% of Puerto Rico's power customers have working electricity, the Journal reported, and Whitefish crews had been rushing to get the lights back on. San Juan Mayor Carmen Yulín Cruz last week called for the contract to "be voided right away."
News of the FBI's investigation comes after both the House Energy and Commerce and Natural Resources Committees launched separate probes into how the contract came into existence. The Department of Homeland Security, which oversees FEMA, and the Puerto Rican government are reportedly also looking into the deal.
Despite speculation about potentially having had a hand in facilitating the deal, Zinke, for his part, has been adamant that he had no involvement. In a statement issued Friday, he said that neither he nor "anyone in my office has advocated for this company in any way." While he acknowledged that Whitefish CEO Andy Techmanski had reached out to him after the contract had been granted, he said that he took no action on the request for more resources.
During a news conference on Sunday announcing the dissolution of the contract, PREPA CEO Ricardo Ramos echoed Zinke's testament that no wrongdoing had occurred.
"There's nothing illegal here. ... Of that, we're sure," he said. "The process was done according to the law."