The unforeseen costs of buying a home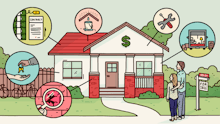 Homeownership is an exciting yet complicated decision that requires adequate financial preparation — it involves more than just a good credit score and a hard-earned down payment. There are lesser-known additional costs to consider when buying a home that people often neglect to take into account.
C.J. and Madeline Holler, a software developer and marketing strategist based in Chicago, are ready to start looking for their first home but want to make sure their finances are in place. Tonya Rapley, creator of My Fab Finance, gave them the tools to begin their homebuying process by highlighting some of the unforeseen costs associated with purchasing a home.
Earnest money
Once you find a home you love and decide to submit a contract to purchase the property, you'll also present earnest money to show what's called "good faith, which essentially means you intend to follow through with the deal. Earnest money discourages potential buyers from making simultaneous offers on multiple properties just to weigh their options.
The amount of earnest money required varies by state and local market rates. For example, $500 to $1,000 might be sufficient in a slower housing market, but if the owner is receiving multiple inquiries about their property, you may need to make a larger deposit (closer to 2% to 3% of the offer price). If the offer is accepted, the earnest money you put down goes toward the purchase price of the home.
Be mindful of potential earnest deposit scams. To protect your deposit, make sure you receive a receipt and confirm the deposit is payable to a reputable third party, such as a well-known real estate brokerage, legal firm, escrow company or title company.
Mortgage reserves
Another overlooked financial component of the homebuying process is a "reserve fund." This refers to your personal financial reserves, which are accessible liquid assets available to withdraw from after your mortgage closes, if needed. Requirements vary from bank to bank, but reserve funds generally serve to demonstrate to the lender your ability to maintain sufficient amounts of income to continue making your mortgage payment should you encounter a tough financial setback, such as job loss or a medical emergency.
While not all lenders require proof of financial reserves, some do, so it's best to plan ahead in case it becomes a fundamental step in your home buying process.
Inspection fees
We've all seen the home repair shows: Renovations are going fine until an electrical or structural issue upends the entire process and demolishes the budget. Homes are complex structures, and despite curbside appeal or magazine-worthy improvements, things aren't always like they seem. Mortgage insurers don't require a home inspection before closing, but it's suggested you have one.
According to the U.S. Department of Housing and Urban Development, typical home inspections cost between $300 to $500 and vary based on size and location. Inspections are important, as existing homeowners may not be forthcoming about issues with the home or might not be aware of problems that could be costly to repair. A couple hundred dollars spent on an inspection can potentially save you thousands in the long run.
Closing costs
When finalizing the purchase of your new home, you'll likely be responsible for paying the expenses that occur when a home is transferred from the seller to the buyer, also known as closing costs. These costs are over and above the home price and cover things like notary services, title company search fees, attorney expenses, real estate transfer taxes, insurance premiums and more. Sellers will also cover portions of closing costs.
Closing costs vary by state and the value of the property, but typically fall between 2% and 5% of the purchase price. You are expected to have the funds to pay for these expenses on the day of closing. A majority of fees included in closing costs are actually negotiable, and you can shop around for lenders who offer incentives in the form of lower fees at closing.
Moving costs
Moving costs are frequently forgotten in the homebuying process, but they're no less important. These costs vary based on your circumstances, but even a crosstown move can be costly, so be sure to factor in the expense of hiring a moving company or renting your own truck. Chances are you'll also purchase new furniture, decorate your new space and spend money on other household necessities, so don't forget to estimate these costs before you sign on the dotted line.
Every move is unique, but it's better safe than sorry to independently assess your situation and pad your moving budget with extra dispensable cash in case of unforeseen costs.
Maintenance costs
Homes require maintenance and upkeep, whether from basic wear and tear or unexpected events like environmental damage. The older your home, the more work you'll likely be responsible for over time. Unlike with rentals, it is 100% your responsibility to repair any issues that arise with your home, so it's wise to ensure you have the resources on hand to deal with any unexpected costs or emergencies. One popular rule is to set aside 1% of your home's value per year for maintenance expenses. For example, if you end up buying a $250,000 home, you should make sure you have $2,500 on hand annually for these purposes.
Regardless of the unavoidable financial splurges, purchasing a home is an exciting experience and one of the most important investments you can make. The smarter you save, the more comfortably you can live in your new space. Get ahead of your finances and proactively prepare for both predictable and unpredictable spending, because an informed homebuyer is a confident homebuyer.