Halloween 2017: Free stuff, free food and the best discounts around the US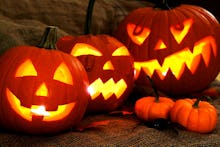 Every kid knows Halloween in the best freebie day of the year. But why should kids or partiers have all the fun? Here are some free treats for kids and adults alike — that don't involve ringing your neighbor's doorbell after dark.
Applebee's: Tuesday is your last chance to nab $1 margaritas, better known as Dollaritas, which have been on sale all month. Bring the kids and you can get up to two free kids meals with the purchase of an adult meal at select locations.
Baskin Robbins: Get a scoop of ice cream for $1.50 at all stores on Tuesday and on the 31st of any month with that many days.
Bass Pro Shops: The outdoor store hosts a free Halloween event from 4 p.m. to 8 p.m. at most locations featuring a costume parade, trick-or-treating, a free 4x6 photo with Peanuts characters and a free Halloween pin on a lanyard for the first 100 kids to have their photo taken.
Burger King: Put on your creepy clown costume and head to a Burger King in Austin, Texas; Burbank, California; Framingham, Massachusetts; Miami Beach, Florida; or Salt Lake City and get a free Whopper if you're one of the first 500 clowns in the door.
Chipotle: Wear your costume to Chipotle and get a $3 burrito, bowl, salad or order of tacos.
Chuck E. Cheese: Children who show up in costume for the entire month of October will receive 50 free tickets, according to the company website.
Del Taco: Taco fans can enjoy Del Taco's regular Tuesday special of three tacos for $1.29 from 3 p.m. to 11 p.m. on Halloween.
IHOP: Kids 12 and under get a free scary face pancake from 7 a.m to 10 p.m. on Tuesday.
Krispy Kreme: Like donuts? Then just saunter into your local Krispy Kreme store on Tuesday and get a free one. No purchase necessary, but you do need to wear a costume.
Papa John's: Enter the promo code "CREEPY" and get a free Medium cheese pizza with an order of at least $15.
Pizza Hut: Get 25% off your online order of menu-priced items using the "SCARYGOOD25" promo code.
Sonic: Corn dogs are 50 cents all day on Halloween. (No costume is required, though you may want to pay cash: The company recently announced a malware attack where credit and debit information was "may have been acquired without authorization.")
Sprinkles: Get 50% off the Boo Box sampler at select locations when you come in costume.
Sign up for the Payoff — your weekly crash course on how to live your best financial life.