Jerome Powell is Trump's Fed chair: What to know about the pick to lead the Federal Reserve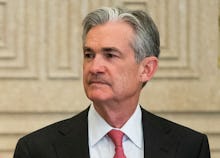 President Donald Trump announced Thursday that the next chairman of the Federal Reserve, replacing Janet Yellen, will be Jerome Powell, a current member of the Fed's board of governors who has long been seen as the frontrunner.
"It is my pleasure and my honor to announce my nomination of Jerome Powell to be the next Chairman of the Federal Reserve," Trump said in a statement in the Rose Garden. "Today is another important milestone on the path to restoring economic opportunity for the American people."
Stepping to the podium, Powell said: "I am both honored and humbled by this opportunity... I will do everything in my power to achieve our congressionally assigned goals of stable prices and maximum employment."
Powell hinted at how he might differ from his predecessor: "While post-crisis improvements in regulation and supervision have helped to achieve [economic] gains," he said, "I will continue to work with my colleagues to ensure that the Fed remains vigilant, and prepared to respond to changes in markets and evolving risks."
Powell will be the wealthiest person to hold the job since 1948, according to a Washington Post review of disclosure records.
Because it's such an important job, Presidents sometimes choose to reappoint the pick of their predecessors. For example, President Barack Obama reappointed former Fed Chair Ben Bernanke, who was appointed to the job by former President George W. Bush. And former President Bill Clinton reappointed Alan Greenspan, who was first given the job by former President Ronald Reagan.
This tradition, coupled with current stock market highs, led some to believe Trump would reappoint Yellen to the job. "It's almost counterintuitive to make a change at this point," said Bankrate analyst Mark Hamrick, before the announcement was made.
Indeed, one reason why Powell reportedly emerged as a frontrunner for the nomination was in part because of a fear that alternatives could roil the stock market. Powell has also mostly voted in line with Yellen, meaning the appointment gives Trump an opportunity to tweak the Fed in his image without laying the foundation for drastic change.
The chair of the Federal Reserve is one of the most powerful appointments a president can make. The Fed is in charge of maximizing employment while keeping prices stable, which it achieves primarily by the raising or lowering the cost of borrowing.
As Mic has previously reported, Powell is a member of the current Fed board of governors — and while he has voted similarly to Yellen, he is a registered Republican who previously worked at private equity firm the Carlyle Group.
Powell is very wealthy, even compared to other recent Fed chairs, as Bloomberg points out: His all-in net worth likely tops $112 million in 2017. "Jay will bring extensive private sector experience and real-world perspective to our government," Trump said of Powell's Wall Street background. "As a result, he understands what it takes for our economy to grow."
In a recent CNBC survey, 45% of respondents said they expected Powell to get the job. Read more here about the latest Fed meeting and how interest rate policy could affect your money.
Sign up for the Payoff — your weekly crash course on how to live your best financial life.
Nov. 2, 2017, 3:15 p.m.: This story has been updated.