Everything you need to know after #MuellerMonday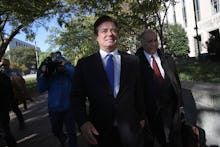 Welcome to Mic's daily read on Donald Trump's America. Want to receive this as a daily email in your inbox? Subscribe here.
Every day, we bring you a different dispatch on Trump's America. Today's focus: Russia. Scroll for today's news.
Tuesday's dispatch: A crush of Russia news
The top takeaways from Monday's unsealing of indictments against Paul Manafort and Rick Gates, and the guilty plea from George Papadopoulos: Special counsel Robert Mueller will go as far as he needs to in his investigation, and the probe is far from over.
Manafort, the former Donald Trump campaign chairman, and Manafort's former business associate Gates were indicted on charges Friday, which were unsealed Monday. They include "conspiracy against the United States."
Manafort and Gates spent years working as unregistered agents of Ukraine within the United States, Mueller wrote. The time frame includes the period when Manafort took over running Trump's campaign in the summer of 2016.
(Click here to learn more about Gates. And click here for details on the real estate money laundering Manafort is charged with.)
The unsealing of the indictments was followed by news that Papadopoulos, a former Trump campaign foreign policy adviser, had pled guilty to making false statements to the FBI. Papadopoulos communicated in 2016 with a professor who has ties to Russia, and who aimed to build a relationship between candidate Trump and Russian President Vladimir Putin.
Papadopoulos' guilty plea is the strongest evidence yet of ties between Trump's campaign and Russia. Evidence against Papadopoulos also further shows the Trump campaign was actively pursuing "dirt" on Hillary Clinton in the form of hacked emails the Russians suggested they could provide.
The probe could end there — but it doesn't. Mueller's indictments refer to two unnamed U.S. companies that did work in conjunction with Manafort and Gates on behalf of Ukraine. One of those companies may be the Podesta Group, which until Monday was run by Democratic lobbyist Tony Podesta, who announced Monday he is stepping down from the firm to focus on fighting the Mueller inquiry.
There are also four other sealed cases in the U.S. District Court in between Papadopoulos' and Manafort's. It's unclear if these cases are linked to Mueller's investigation, but it raises the possibility of more news to come.
How does this affect Trump? "Today's announcement has nothing to do with the president," press secretary Sarah Huckabee Sanders said Monday. At the press briefing, she tried to steer the conversation toward tax reform, but reporters kept asking questions about the indictments and Russia investigation.
Trump tweeted Monday that there was "NO COLLUSION!" He reportedly spent much of Monday morning seething in the White House: calling attorneys, watching cable news and stepping into the role of crisis PR pro. He also said the charges were connected to things that happened "years ago." But the charges say otherwise.
Monday did not change the fact there is still no evidence Trump himself had ties to Russia during the campaign.
But people around Trump at the time, including some who have yet to face criminal charges, clearly had ties to the Russian government or its interests during the campaign. And Mueller's approach of pursuing Manafort's offshore business dealings indicates he's going after the lowest-hanging fruit five months into an investigation that could stretch on well into 2018.
In interviews with some legal experts, Politico concluded that by releasing Papadopoulos' plea, Mueller is sending a message that a former Trump campaign insider could offer him assistance — and cause more problems for those around the president.
Today's question: What's next in the Russia investigation?
Email us your thoughts at trumpsamerica@mic.com.
Tuesday in Trump's America:
Tech testimony. Facebook, Google and Twitter attorneys will testify before Congress on Tuesday. CNN reported Facebook will say approximately 126 million Americans may have seen content generated by Russians on the platform during the 2016 presidential campaign.
Axios reported Google will reveal there were 18 YouTube channels likely connected to the Russian disinformation campaign. And Twitter is anticipated to reveal thousands of new Russia-linked accounts.
Tax reform. Trump is meeting with House Speaker Paul Ryan, while Vice President Mike Pence is working Capitol Hill. Trump and Pence are seeking to push Republicans towards releasing a tax reform plan on Wednesday that will garner enough GOP support in the House and Senate.
Here are five things to know about how the plan may impact your taxes. And here's why Sen. Susan Collins (R-Maine) could be combative with her fellow Republicans on tax reform, just as she was on health care.
Federal Reserve. What to know about Trump's reported pick for the government's top financial position.
100% wrong. Why Trump's claim tying the Obama camp to the infamous Russia dossier isn't true.
Senate approval. Support for Republicans is dropping like a rock. Sen. Mitch McConnell (R-Ky.) is particularly unpopular, while vulnerable incumbents like Sen. Dean Heller (R-Nev.) are seeing their support shrink.
John Kelly on monuments. The White House chief of staff told Fox News that "the lack of an ability to compromise" led to the Civil War. He also said Robert E. Lee was an "honorable man."
Alabama Senate race. A GOP-backed poll shows nearly half of the electorate will support Republican Roy Moore over Democrat Doug Jones, whose polling and fundraising numbers have surged in recent weeks.
Today's MicBite:
Nurses in Puerto Rico spoke out about the lack of aid they saw during their time helping residents on the island. Tap or click the video below to watch.
Correction: Oct. 31, 2017