Celebrity Halloween 2017: Beyoncé as Lil' Kim, Jay-Z as Biggie and Cardi B as Cruella de Vil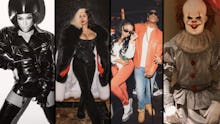 Happy Halloween, everyone! We don't even have to dress as a ghost tonight because after seeing Beyoncé and Jay-Z's costumes, we're dead now.
(So to speak.)
As is their tradition, Bey and Jay killed it this Halloween. Last year they went as black Barbie and Ken and this year they went as Lil' Kim from Missy Elliott's "The Rain (Supa Dupa Fly)" video, and Biggie Smalls.
While Bey wore orange pants, black suspenders and black sunglasses to look like Kim, Jay opted for Biggie's iconic red leather jacket and cane.
Name a more iconic duo, dressing as a more iconic duo. We'll wait.
At that same party, which was hosted by Kelly Rowland, Rowland dressed up as Grace Jones in the '90s comedy Boomerang.
Celebrities started showing off their costumes over the weekend.
Cardi B as Cruella de Vil is a highlight, given that she coined herself as Bruella de Vil.
Honestly breathtaking.
Here are a few more of our favorites.
Eric André as Cardi B
Steph Curry as Jigsaw
Swizz Beatz as Sloth from The Goonies
LeBron James as Pennywise
Blogger Gabi Gregg as George Costanza on Seinfeld
Taraji P. Henson as Grace Jones
Aubrey Plaza at Wednesday Addams
Laverne Cox as Major Nelson from I Dream of Jeannie