Republicans reportedly plan to attack Mueller over dossier as Trump fumes over Manafort charges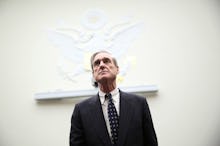 Republicans are reportedly planning to attack Robert Mueller in the wake of the special counsel's indictment of Paul Manafort — President Donald Trump's former campaign manager — and his associate Richard Gates.
According to the Washington Post, prominent Republicans on Capitol Hill this week are expected to hit Mueller over his handling of the infamous Steele dossier alleging collusion between the Trump campaign and Russia, which they'll reportedly say the special counsel has leaned on too heavily in his intensifying investigation into Russian election meddling.
The dossier has been a talking point for Republicans in recent days since it was revealed to have been partially funded by Democrats and Hillary Clinton's campaign.
But, the Post reported, they're expected to hammer the dossier harder following the surrender of Manafort and Gates Monday, along with the surprising news that George Papadopoulos — a former foreign policy adviser to the campaign — had pled guilty to lying to the FBI about his attempts to build inroads between the Kremlin and the campaign.
Will Trump go after Mueller?
The expected Republican offensive comes as Trump has privately raged over Mueller's moves, furiously phoning his attorneys as he watched coverage of the developments on television, according to the Post.
Trump's lawyers have preached caution, but former chief strategist Steve Bannon has urged the president to defund the special counsel's probe and refuse to cooperate with it, according to multiple reports.
Some have speculated that Trump may try to oust Mueller, something his attorneys have said he would not do.
Democrats have said they plan to protect the special counsel, and some Republicans, including Sen. Lindsey Graham (R-S.C.), have indicated that the president would face a firestorm if he did not allow the investigation to run its course.
"Mr. Mueller's doing his job," Graham told Fox News on Monday. "If there was some effort to [fire him] without a good reason, there'd be holy hell to pay."
Still, Trump has broken his silence several times since the indictments Monday, denying any collusion between his campaign and the Russians and questioning why Clinton isn't the focus of the investigations.
Manafort and Gates on Monday pled not guilty to 12 counts, including conspiracy against the United States for alleged criminal activity that lasted "through at least 2016."
The White House tried to distance itself from those indictments, arguing that the charges do not have anything to do with collusion and were unrelated to Trump's presidential campaign.
"Today's announcement has nothing to do with the president, has nothing to do with the president's campaign or campaign activity," press secretary Sarah Huckabee Sanders told reporters Monday.
Papadopoulos pled guilty on Oct. 5 to making false statements to FBI agents and has seemingly been cooperating with Mueller's investigators. He had engaged in "extensive communications" with a Kremlin-connected professor who claimed to have dirt on Clinton and attempted to broker a meeting between the campaign and Russian officials.
The White House sought to downplay the role of Papadopoulos, dismissing him as a "volunteer" with very little influence on the campaign.
But according to the FBI's statement of offense, the "young, low level volunteer" kept more senior campaign officials abreast of his Russian meetings. One campaign supervisor, responding to one of several of Papadopoulos' requests to set up a meeting between the campaign and the Kremlin, told the adviser that he would "work it through the campaign," according to the document unsealed Oct. 30, hours after Manafort and Gates surrendered.
"Great work," the campaign supervisor said.