More than 2,000 cities worldwide are exceeding recommended pollution levels, according to new report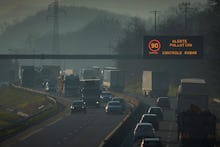 A new report released Monday in The Lancet highlights the scale of the battle to slow climate change — according to the comprehensive report, more than 2,000 cities worldwide exceed guidelines for air pollution, putting vulnerable populations at risk.
According to the report, 71% of 2,971 cities included in the World Health Organization's air pollution database exceed the recommended levels of fine particulate matter released into the atmosphere annually. Particulate matter, as CNN reported on Monday, are the particles emitted when fossil fuels are burned — and they're small enough to get into human lungs.
Particulate matter in the air is known to have serious health effects, as Mic has previously reported, including decreased lung function, difficulty breathing and premature death.
A February report from the Guardian found that, in at least 15 cities around the world, levels of particulate matter in the air are so high that biking outdoors becomes dangerous after an hour of exposure.
According to the latest Lancet report, since 1990, global exposure to fine particulate matter increased by 11.2%, a sign that the progress in "mitigating climate change" has been "limited," the report stated.
Hugh Montgomery, co-chair of The Lancet Countdown on health and climate change and director of the Institute for Human Health and Performance at University College London in the UK, told CNN on Monday that climate change is "the major health threat of the 21st century.
"There's an urgent need to address it," Montgomery said. While air pollution is one of the most pressing threats to human health related to emissions, the same factors are helping drive other climate change related health crises.
According to the Lancet report, weather-related disasters and intense heatwaves are also on the rise, threatening human health worldwide, especially among people in low-income and middle-income countries.
The report urges a number of steps to help mitigate some of the dangerous effects of climate change, including phasing out coal power, investing in climate change and public health research and increasing access to renewable energy.