What Melania Trump wore her 41st week as first lady — for Halloween trick-or-treaters and beyond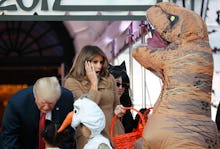 It was a scary week in more ways than one for the Trumps. There were those indictments on Monday, and then trick-or-treaters visited the White House later that very day, which gave Melania some fright, as evidenced by the photo above.
But we're not here to talk about politics, of course. We're here to talk about fashion. Though we saw Trump just twice this week, what we can glean from these sightings is that with the dropping winter temperatures in Washington, we'll be seeing a whole lot more coats from Trump this season.
This is what Melania Trump wore this week.
Monday, Oct. 30: A camel coat for Halloween trick-or-treaters
The Trump White House had its first Halloween celebration on Monday, with trick-or-treaters visiting the president, first lady and other members of the administration, like Betsy DeVos who dressed up as Ms. Frizzle.
To the event, Trump didn't necessarily dress up, but did wear a long fuzzy camel coat by Bottega Veneta, with brown pumps to match. Perhaps she was trying to look like a teddy bear.
With color-matching and a coat worn as a dress, the outfit couldn't really get more Melania than that.
Friday, Nov. 3: A blue coat for departing the White House
Now here's a pop of color: For departing the White House on Friday, on her way to an 11-day trip in Asia which will surely be fashion-packed, Trump wore a cobalt blue coat by Emilio Pucci, with matching blue Louboutin heels.
With this Asia trip ahead of her, we'll be seeing a whole lot of Melania next week. That we can be sure of.
You can see previous recaps of what Melania Trump wore here.