Trump refuses to say whether he'd pardon Paul Manafort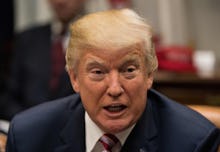 President Donald Trump avoided reporters' questions about whether he'd pardon Paul Manafort, his former campaign chairman who surrendered to federal authorities on Monday after being indicted on 12 charges relating to money laundering, tax evasion and not registering as a foreign agent.
The question about whether Trump would pardon Manafort took place during a round table at the White House on tax reform.
The White House pool reporter said Trump "considered the question for half a moment and then thanked the pool, signaling he was done answering questions."
Manafort, along with Trump campaign aide Rick Gates, were the first Trump staffers to face charges in special prosecutor Robert Mueller's investigation into the Trump campaign's possible Russia ties.
Another Trump staffer, George Papadopoulos, pleaded guilty to lying to federal agents about discussions he had with a Russia-connected professor who offered "dirt" on Hillary Clinton.
Court documents regarding Papadopoulos' plea suggest he's cooperating with federal authorities, raising questions about whether he's provided Mueller with any evidence on other Trump campaign aides and their Russia dealings.
Trump has sought to downplay the news; however, legal experts say Mueller's Monday announcements look like the start of a long investigation that will lead to other indictments.