Netflix suspends production of 'House of Cards' after Kevin Spacey allegations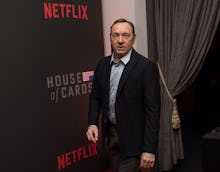 Netflix has suspended production of House of Cards in the wake of allegations of sexual misconduct against star Kevin Spacey.
In a statement provided to Deadline on Tuesday, Netflix, along with House of Cards production company Media Rights Capital, said it had decided to "suspend production on House of Cards season six, until further notice, to give us time to review the current situation and to address any concerns of our cast and crew."
The decision comes following a report Sunday from BuzzFeed in which actor Anthony Rapp accused Spacey of making a sexual advance toward him in 1986, when Spacey was 26 and Rapp was 14.
Spacey responded to Rapp's allegations in a statement posted to Twitter in which he claimed he did not remember the encounter but that, if it did indeed take place, "I owe him the sincerest apology for what would have been deeply inappropriate drunken behavior."
In the statement, Spacey also said he is gay, in what many criticized as an attempt to distract from allegations that he had made sexual advances on a minor by coming out.
Netflix had announced Monday that season six of House of Cards would be the show's last, but said that decision had been made before Rapp's public allegations against Spacey.