My Happy Place: Wyclef Jean reveals his hidden paradise in Haiti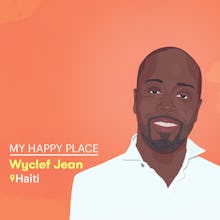 In My Happy Place, we talk to some of our favorite people about their emotional connection with an unforgettable destination.
Wyclef Jean is one the biggest musical names to ever come out of the island nation of Haiti. His star first rose as a member of the famed hip-hop group the Fugees and continued to climb as Jean pursued a career as a solo artist, collaborating with everyone from Shakira to Young Thug. A three-time Grammy award recipient, Jean has never forgotten his home country of Haiti and regularly extols his love for the country through his music. Mic caught up with Jean at an October benefit for VH1's Save the Music Foundation, which is dedicated to bringing instrumental education to U.S. public schools.
For Jean, there's one place in Haiti that he can't forget. "It's like a magical river. It's called Saut d'Eau," he said. Saut d'Eau is the name of a town and 100-foot waterfall about 60 miles north of Haiti's capital, Port-au-Prince.
Saut d'Eau — or Sodo in Creole — is a place where natural beauty and Haiti's rich history meet. The towering waterfall was created by an earthquake in the mid-1800s. According to local lore, shortly after a man saw the Virgin Mary appear near the waterfall. Saut d'Eau became a sacred site, and now, as Jean explains, "they have great ceremonies" every year.
The annual festival at Saut d'Eau occurs in mid-July, when Haitians, tourists and members of the diaspora travel to the waterfall to take part in the festivities. Attendees bathe in the water, hoping it will rid them of sicknesses or bring them good fortune. Both the Virgin Mary and her Vodou analog, the Haitian spirit Erzulie Dantor, are associated with the waterfall.
Vodou — more commonly spelled as "voodoo"— is a key part of Haitian culture, and stems from its colonial history. When French colonizers made African slaves in plantation colonies like Haiti practice Catholicism, many combined the religion with indigenous African gods, giving birth to Vodou. That's why Vodou spirits, like Erzulie are often so similar to Catholic religious figures like the Virgin Mary.
Music is woven into the yearly Saut d'Eau festivities. "You go out there, a lot of music is played," Jean said. "The style of the music is called rara. Rara is the roots." During the festival, rara musicians lead a procession from a church in Saut d'Eau to the waterfall. The main instrument used in rara is a bamboo or metal cylinder called a vaksen, which is accompanied by drums and other percussion instruments.
Rara is also played during Easter and Haiti's equivalent of Mardi Gras, Carnival, which happens every year in the weeks leading up to Lent.
Jean hasn't always had such a rosy relationship with his home country. After a catastrophic earthquake upended Haiti in 2010, his charity Yéle was accused of overspending on travel and luxury office expenses, as well as not fully paying its contractors. Jean responded to criticism in 2010 saying, "I never would ever take money for my personal pocket when it comes to Yéle," and that he has "always been committed to the people of Haiti."
Despite being roiled by the Yéle controversy, Jean remains dedicated to uplifting his country, and he released a song named "Lady Haiti" in February 2017. For Jean, the synesthetic combination of music, nature and religious ceremonies make the Saut d'Eau waterfall and festivities one of the most treasured pieces of Haiti. And at the end of the day, it sums up what Jean loves so much about his native home: "You chill. You meditate. You enjoy nature."