Singer-songwriter Shamir talks about his childhood love of Amerie and The Who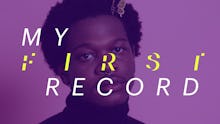 In My First Record, we ask some of our favorite musicians to reminisce about the first albums they ever bought, and the effect those records had on them growing up.
Not that long ago, Shamir Bailey wasn't sure if he was going to keep making music. The 22-year-old singer-songwriter (who goes by his first name professionally) had his breakthrough year in 2015 with his effervescent, highly danceable debut album, Ratchet. But when it came time to put together a follow-up, Shamir didn't want to stick to the disco trappings that earned him hosannas — he wanted to explore the guitar-driven, stripped-down sounds that he grew up with in Las Vegas.
Despite the success of his first album, the creative struggle over his second led to Shamir getting dropped from his deal with XL Recordings. After that, Shamir was feeling burnt out on the music industry and thinking of giving up altogether. Instead, he hastily assembled and self-released an extremely lo-fi record called Hope, which he recorded over a single April weekend in his Philadelphia home.
And now, months later, Shamir is already about to release his third full-length, Revelations. He's back on a label for this one — Father/Daughter Records — and was free to follow his inspiration where it led him; that means he landed on the sort of nostalgic indie rock that you'd expect from an album with a single called "'90s Kids." The new record isn't quite as raw as Hope, but it's still nowhere near as polished as Ratchet.
Ahead of the Nov. 3 release of Revelations, we sat down with Shamir to talk about his earliest inspirations — specifically, the first albums he ever bought. "I think [my mom and I] probably went to Tower Records, and I was like, 'OK, I'm going to get a CD of my own,'" he said over tea in late September. "And I came back with The Who, 20th Century Masters compilation, and my mom was like, 'Why did you just pick up a dad-rock record?'"
Tellingly, almost as soon as he mentioned The Who, Shamir walked his answer back to gush about something from the pop realm. Read his earliest memories of his music fandom below.
"I'm gonna take it way back. I only said The Who because I think The Who was my first [introduction] to guitar music. But I also remember asking my mom to buy the Amerie album — the first Amerie album. That's a throwback."
"I think that was my very, very, very first CD. I was like, 'Yeah, I want the Amerie CD' because I had the biggest crush on her — and still do, she still looks amazing."
"By five years old, I was writing my own songs. I didn't know how to play anything, but I had little melodies in my head and I would write little ditties to myself. I didn't grow up in a musical family per se, but my mom and her twin, my aunt, they lived together from as early as I can remember till [I was] about eight or nine. We all lived in a house together, and my aunt, she doesn't play anything or sing, but she likes to write songs. So she had country musicians over all the time, and that was her thing. She had a little studio back when it wasn't as easy, she really invested a lot into it."
"So I would just sneak in and shoot the shit with grown-ass people when I was like, four, five, six, and run around and that's how I learned to communicate. By the time I started school I didn't even know how to communicate with other children. I would sit in while they would jam and I'd be like, 'I want to do that.'"
"I'm getting, like, flashbacks, seeing the cover. I haven't even listened to it in a while. 'Why Don't We Fall in Love,' that was my favorite song, and I remember the video and everything. I don't remember any of the details, I've got to get back into it. And look, there's a track on there called 'Float,' and I have a track called 'Float' on Revelations. That's so funny — I'm probably going to listen to this all day today."
"This is going to sound so pretentious, but I was, like, through with pop by the time I got an Avril Lavigne record when I was in second grade. And then after that, I only listened to obscure rock music and classic rock music. That's why I said The Who first, because that's when it started, that's when I was living in my own world and I didn't listen to pop music anymore. I was actively searching for new stuff that [wasn't] on the radio."
"But The Who record was the first one that I bought with my own money. It was the most defining moment. I found out about The Who because I am an insomniac, and always have been one my whole life. I would stay up past midnight, even as a child, so I would watch [music infomercials] and I just remember seeing a clip of 'My Generation.' And I decided to stan forever. I was like, 'This is it.'"
This interview has been edited and condensed for clarity.