8 dead in "act of terror" after truck drives into pedestrians, bicyclists in Manhattan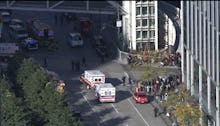 New York police responded to the scene Tuesday afternoon in Lower Manhattan after a truck drove into a bike path, the Associated Press reported, killing several people. According to the AP, witnesses said a vehicle, which appeared to be a Home Depot truck, drove onto the bike path, striking pedestrians and cyclists.
After coming to a stop, the suspect exited the vehicle and displayed imitation firearms before being shot by police, CNN reported. According to witnesses who spoke to CNN, the suspect yelled "Allahu Akbar" before being shot.
In a press briefing on Tuesday evening, New York City Mayor Bill de Blasio said eight people had been killed in what he called "an act of terror, and a particularly cowardly act of terror."
De Blasio added, "We know this action was intended to break our spirit. We'll respond as we always do, we'll be undeterred." The mayor added that New York City police will be widely deployed throughout the city all night. He did, however, note that there is no sign of any ongoing danger.
The incident occurred just a few blocks north of One World Trade Center, and close to the city's Stuyvesant High School.
According to Mic reporter Aaron Morrison, police had enlarged the perimeter around the scene of the incident just as parents arrived to pick up their children from a nearby daycare center.
Near Warren and West streets, first responders moved stretchers past pedestrians and police officers, as parents with children in tow sought passage away from the scene. Two children were among the injured.
Albert Wah, a manager at Blazing Saddles, the New York City bicycle rental shop, said by phone that some of the victims were riding bikes rented from their company, though he did not know how many.
In a tweet, the New York Police Department said the lone suspect, who was carrying a Florida ID, is in custody. The suspect is now being treated at a nearby hospital, the New York Times reported.
According to CNN, the incident was being investigated as a possible terror attack and the FBI's Joint Terrorism Task Force will now be leading the investigation.
President Donald Trump also quickly tweeted about the incident saying, "In NYC, looks like another attack by a very sick and deranged person. Law enforcement is following this closely. NOT IN THE U.S.A.!"
On Tuesday evening, the president tweeted that he had ordered the Department of Homeland Security to ratchet up its "extreme vetting" of foreign nationals. It is immediately unclear what Trump's new imperative will entail.
Oct. 31, 2017, 9:40 p.m. Eastern: This story has been updated.