Will the Fed raise interest rates in December? What to know about rate hikes, the new chair and more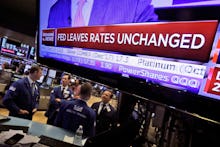 It's a busy week for the Federal Reserve, America's central bank, which is tasked with maximizing employment and keeping a lid on prices. The bank's Federal Open Market Committee Wednesday released the new policy statement following its latest meeting, a document scrutinized by the financial industry for signs of how the economy is faring and whether interest rates could rise. The Fed reported positive news.
"The labor market has continued to strengthen and that economic activity has been rising at a solid rate despite hurricane-related disruptions," said the board. The takeaway?
Other than — of course — the upcoming White House announcement planned for Thursday about who will be the Fed's next chairmen, it's business as usual for the Fed: because the economy is seemingly doing well.
As expected, the Fed did not make any major changes, and interest rates will remain where they are, between 1% to 1.25%. Of course, depending on how you interpret the rest of the bank's message, a December rate hike could still be a possibility: "The Committee expects that economic conditions will evolve in a manner that will warrant gradual increases in the federal funds rate."
Rate hikes affect the U.S. economy, because they make the cost of borrowing more expensive: Everything from mortgage rates to student loan refinancing is affected. If you haven't yet, could be a good time to consider locking in any low interest rates sooner rather than later — if you can. If you have a variable-interest credit card and carry a balance, you might consider applying for a balance transfer card so rising interest rates are less likely to affect you.
Though you're safe for now, it's important to get ready for the effects of a potential rate hike in December. Here are the most important items to watch to understand how the Fed could change policy.
The Fed just gave a clue about where rates are headed, if you read between the lines
The most important takeaway from Wednesday's meeting is really about what the Fed didn't say: It made a big announcement in September — that it would finally begin selling the assets it accumulated to help keep prices from crashing during the financial crisis — and on Wednesday the Fed said simply that this balance sheet normalization was "proceeding."
That suggests that, while there wasn't a rate hike announce, it was largely because the Fed and markets are focused on other issues — namely who will be board chair Janet Yellen's replacement — and not because the economy seems to be slowing down. Hiring did pull back some in September, but the Fed attributed this to the hurricanes.
And that long-expected possible rate hike in December is on people's minds: Leading up to the announcement, about 93% of those polled in a recent CNBC survey said they expected three rate hikes for the year, with the third being in December. The Fed also raised rates in March and June.
Raising interest rates raises the cost of borrowing, which is a little bit like taking your foot off the gas pedal when you're driving a car. Making it cheap to borrow makes people more likely to spend, which helps the economy speed up, a least in theory. For most of the years since the 2008 financial crash, interest rates have been near zero to try to stimulate the economy.
Who is Jerome Powell?
One reason why President Donald Trump is widely expected to name Jerome Powell to replace Janet Yellen is that he is seen as a rebranding of the Fed, as opposed to new direction in terms of policy.
The Fed moves slowly and deliberately and is generally not an institution that presidents like to mess with too much: Since 1979, every Fed chair has been reappointed, more often than not across party lines.
Because of the consistency she would bring — and her capable stewardship of steadily climbing asset prices — Wall Street would have liked to see Yellen be reappointed, according to polls.
But Powell, since he has similar experience and largely voted the same as Yellen in terms of Fed policy, is way for Trump to reshape the Fed to be more in line with his philosophy without a drastic change.
For more about how the Fed's policy announcements can affect your finances, check out our guides here and here.
Sign up for the Payoff — your weekly crash course on how to live your best financial life.