These cute kids dressed up as black heroes of the past and present for Halloween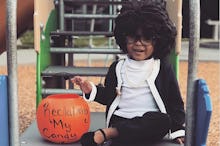 Many kids look forward to Halloween for the chance to let their imagination run free, dress up in a cool costume and eat handfuls of free candy. Below, these kids in particular are wowing the internet by paying homage to civil rights heroes and today's activists with their chosen Halloween outfit.
First is a mini Maxine Waters who is "reclaiming her candy," a spin on the congresswoman's famous words, "reclaiming my time."
This young girl nailed a red carpet look of actress and producer Issa Rae, the creator of HBO's Insecure. Although Rae is the new it-woman in Hollywood, she never hesitates to speak out about representation for people of color in media.
There were also a couple of kiddie Kaepernicks out there this Halloween. The Instagram page for the activist's Know Your Rights fund and camp reposted the kids. Here are a few raising their fists and kneeling for the cause just like Kaepernick.
And there are so many more cute costumes to mention. Here is a toddler Prince wearing the singer and activist's iconic "Purple Rain" ensemble.
Some young geniuses dressed up as Katherine G. Johnson, Dorothy Vaughan and Mary Jackson, the NASA mathematicians who finally got the shine they deserved in Hidden Figures, which was released in December.
These children aimed for the skies with their costumes: One dressed up as a Tuskegee airman and another the first black female pilot, Bessie Coleman.
The law is in good hands with this young Thurgood Marshall. It's clear he did his research as he holds up a copy of a newspaper from the day Marshall won the historic victory in Brown v. Board of Education, which banned segregation in American schools.
Below, the whole family took over Instagram with their Black Panther costumes and collectively threw their fists in the air.
Overall, these children prove Halloween can be both fun and have a social-conscious spin to it that celebrates the sacrifices made by those in the past.