New Yorkers gather for Halloween parade hours after deadly attack: "We always come back strong"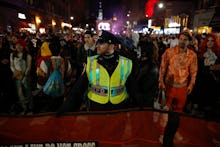 New Yorkers shared messages of resilience as they attended the annual Village Halloween Parade, which kicked off only hours after the deadly attack in the city on Tuesday.
"The spirit of New York is an indomitable spirit, and we're going to celebrate and we're going to enjoy life," said Bart Olson, a record label owner who attended the parade. "And we're not going to allow something like this to hold us back."
"I decided to come just to be brave and let them know we're New Yorkers and we're strong," said Roslyn Brailsford, a social worker. "It's a great place. It's the best place in the world. We always come back strong."
Earlier Tuesday afternoon, a truck plowed into pedestrians and cyclists near the World Trade Center memorial, killing at least eight people and injuring at least 11 more. Police shot the suspect and took him into custody.
In a press conference, New York City Mayor Bill de Blasio called it "an act of terror, and a particularly cowardly act of terror."
Officials also announced the parade would continue with more resources and increased police presence.
"We have been tested before as a city very near the site of today's tragedy," the mayor said. "And New Yorkers did not give in in the face of these kinds of actions. We will respond as we always do. We will be undeterred."