6 foreign nationals, 1 New Jersey grad student identified among victims in New York terror attack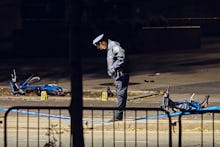 According to officials from both nations, five Argentine nationals and one Belgian national have been identified among the victims of a vehicular attack in New York City that left at least eight dead and 11 wounded.
On Wednesday afternoon, the Daily News reported that Darren Drake, a 32-year-old grad student from New Jersey, was also killed in the attack, according to Barbara Drake, the victim's mother.
On Tuesday evening, Argentina's Ministry of Foreign Affairs said Hernán Mendoza, Diego Angelini, Alejandro Pagnucco, Ariel Erlij and Hernán Ferruchi were killed when a driver plowed his vehicle down a bike lane in lower Manhattan on Tuesday afternoon.
According to the Daily News, the men hailed from Rosario, a town roughly 185 miles from the nation's capital of Buenos Aires. Ferruchi was an architect and Erlij a businessman.
Citing Argentine officials, the Daily News reported that the victims met in school and had been vacationing in New York to commemorate the 30-year reunion of their friendship. That report, drawing from local media in Argentina, found a photo of all of the men — with the exception of Ariel Erlij, who reportedly missed his flight and flew into New York the following day — before they boarded the plane.
Though the tweet from journalist Hernán Funes reports that four men were injured in the attack, it is immediately unclear whether he was referring to four Argentine nationals who have already been identified among the slain or four who were injured in addition to the five identified Argentine victims. The Tuesday evening announcement from Argentina's government names just one more Argentine national — Martín Ludovico Marro — among the 11 injured.
Argentine President Mauricio Macri tweeted that he was deeply hurt by the fatal attack in New York.
"Profoundly shaken by the tragic deaths this afternoon in New York," he tweeted Thursday.
In a statement on Twitter, Deputy Prime Minister Didier Reynders of Belgium announced that a Belgian national had been killed in the attack.
Though Reynders did not immediately identify the Belgian victim, HuffPost reported that the deputy prime minister told a local outlet that she was "a Roeselare-based woman who was on a city trip with her sister and mother."
Drake, the New Jersey grad student who died in the attack, was remembered by his mother as a "wonderful person."
"At lunch, he would go to the bike trail," Barbara Drake told the Daily News. "He just loved to travel and embraced life."
Two law enforcement officials have identified Sayfullo Saipov as the suspected driver of the vehicle, according to the Associated Press. Saipov, a 29-year-old man who reportedly hails from Tampa, Florida, is in police custody, according to law enforcement. The AP reports Saipov is an Uzbek national.
In a press briefing Tuesday evening, New York City Mayor Bill de Blasio called the attack "an act of terror."
Nov. 1, 2017, 5:16 p.m.: This story has been updated.