Trump is already talking immigration after terror attack. What happened to waiting for "the facts"?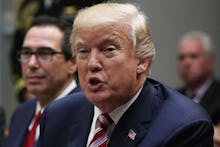 President Donald Trump is already using the terrorist attack in New York to push immigration policy, less than 24 hours after an Uzbek immigrant mowed down pedestrians near the World Trade Center, killing eight and wounding several others.
"The terrorist came into our country through what is called the 'Diversity Visa Lottery Program,' a Chuck Schumer beauty," Trump tweeted Wednesday morning, referring to a then-unconfirmed story about how the attacker entered the country. "I want merit based."
"We are fighting hard for merit-based immigration, no more Democrat lottery systems," Trump added. "We must get MUCH tougher (and smarter)."
Trump's quick pivot to calling for immigration reform in the wake of a terrorist attack carried out by an immigrant is much different than his response to both the mass shooting in Las Vegas that killed at least 58 and the attack in Charlottesville, Virginia, in which a white supremacist mowed down peaceful protesters, killing one.
It took Trump days to condemn the violence in Charlottesville, first blaming both the white supremacists and the peaceful counter-protesters, and later saying he didn't immediately call out the white supremacist who carried out the attack because he wanted to "get the facts." Trump used a then-unconfirmed story by a local television outlet to blame the New York attack on Senate Minority Leader Chuck Schumer and Democrats.
After Stephen Paddock, a 64-year-old white man, opened fire on concertgoers at a country music festival on the Las Vegas Strip, Trump refused to get into a debate on gun control.
"At some point, perhaps that will come," Trump told reporters on Oct. 3, two days after the massacre. "But that's not for now; that's for — at a later time."
White House press secretary Sarah Huckabee Sanders also said it was "premature" to talk about gun control after the shooting.
"Look, this is an unspeakable tragedy. Today is a day for consoling the survivors and mourning those we lost," Sanders said at a press briefing the day after the Las Vegas shooting. "Our thoughts and prayers are certainly with all of those individuals. There's a time and place for a political debate, but now is the time to unite as a country."
A month after the Las Vegas shooting, the gun control debate has already fizzled.
Initially, it seemed like there was some consensus forming on banning bump stocks — a gun attachment that makes semi-automatic rifles fire like automatic ones. But that debate ended as Republicans have moved on to tax reform.
It's unclear whether the attack in New York will lead to Trump's preferred brand of immigration reform.
But Congress' deadline to act on the Deferred Action for Childhood Arrivals program is quickly approaching. If Congress fails to act, the program will end, putting nearly a million undocumented immigrants who came to the U.S. as minors at risk.
Nov. 1, 2017, 9:37 p.m.: This story has been updated.