Celebrity Halloween 2017: Heidi Klum, Chance the Rapper, Lady Gaga, Chrissy Teigen, Kim K and more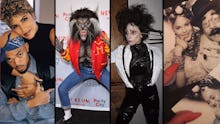 We have to admit, celebrities this Halloween were not messing around. Starting over the weekend, there was a steady stream of A-list celebs stepping out in super creative outfits, like Beyonce as Lil' Kim , Cardi B as a convincing Cruella de Vil and Kim Kardashian West as Cher.
Now, we can see what they wore on actual Halloween. One thing to note is that for the first time in a while, we can't spot one problematic costume. As the hours tick by, that may change, but this feels like a nice little reprieve from all those thoughtless get-ups we've had to endure in years past.
Here are some of the highlights from Tuesday, when the women continued to rule Halloween:
Heidi Klum as Michael Jackson in "Thriller"
At her 18th annual Halloween soiree, Klum underwent a complete transformation in order to become Michael Jackson after he turned into a werewolf in the "Thriller" music video.
Kim Kardashian West as Selena
All of West's looks this week were inspired by her favorite musical icons, and this one fits right in.
Dolly Parton as Veruca Salt
Forever an icon.
Lady Gaga as Edward Scissorhands
Big props for the commitment to accuracy.
Chance the Rapper as Tupac
Couples costumes — like Bey and Jay's — really did rock this year, with Chance the Rapper and his girlfriend Kirsten Corley dressing up as Tupac Shakur and Jada Pinkett.
Gabrielle Union and Dwyane Wade as Milli Vanilli
Another example of a great couples costume.
Sarah Michelle Gellar and Freddie Prinze Jr. as Pretty in Pink characters
Here's yet another example of a cute couples costume, with SMG as Andie and FPJ as Duckie from Pretty in Pink.
Chrissy Teigen as Carmen Miranda and John Legend as Groucho Marx
Major cuteness.
Zayn as Spider-Man and Gigi Hadid as the Black Cat
For some reason we prefer Zayn's costume.
Shania Twain as a leopard
Major "That Don't Impress Me Much" vibes, which is iconic on its own.
Wendy Williams as the Statue of Liberty
This get-up didn't end up turning out so well for Williams, who fainted live on her show, but the costume itself was on point.
Ava Duvernay as Issa on Insecure
Legend stanning legend.