New right-wing talking point: NYC terror attack was Chuck Schumer's fault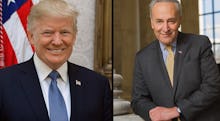 On Wednesday morning, President Donald Trump used Twitter to blame Senate Minority Leader Chuck Schumer and the Democrats for the program that they allege allowed the suspect in the New York City attack to live in the United States.
"The terrorist came into our country through what is called the 'Diversity Visa Lottery Program,' a Chuck Schumer beauty," the president tweeted. "I want merit based."
In another tweet, directed at the morning show Fox and Friends, Trump vowed to end so-called "Democrat Lottery Systems."
Trump's sources for these allegations were not immediately clear, but the Department of Homeland Security would later confirm in a statement that the suspect "was admitted to the U.S. upon presentation of a passport with a valid diversity immigrant visa." On Twitter, Andrew Kirell, senior editor for the Daily Beast, pointed out that the president's tweets came moments after a Fox and Friends segment blaming Schumer for the bill.
The segment followed a right-wing media effort — detailed by the Washington Post — to spread an unconfirmed report that the attack suspect used the visa lottery to enter the country,
"He 'won' his visa under the Diversity Lottery program introduced by none other than @SenSchumer," Sebastian Gorka, former deputy assistant to Trump, tweeted on Tuesday evening.
Each year, the Diversity Immigrant Visa program randomly selects up to 50,000 applicants to receive a green card, allowing recipients to legally immigrate to or continue residing legally in the United States. It was created as a provision of the Immigration Act of 1990.
But despite Trump's best efforts to lay culpability on Democrats for the system, the Immigration Act passed through Congress with bipartisan co-sponsorship and support.
Though the Senate bill was introduced by Democratic Senator Ted Kennedy of Massachusetts in 1989, it was co-sponsored by Republican Sens. Alan Simpson of Wyoming and Alfonse D'Amato of New York. It passed in the Senate with 81 votes for it and 17 votes against it. Republican Sens. Orrin Hatch of Utah and Chuck Grassley of Iowa were among those who voted for its passage.
In the House, the bill was sponsored by Democratic Rep. Bruce Morrison of Connecticut. There, it was co-sponsored by Schumer, then a congressman from New York, along with Republican Reps. John Rowland and Nancy Johnson of Connecticut, Jim Courter of New Jersey, Ronald Machtley of Rhode Island, and Benjamin Gilman and Raymond McGrath of New York. The bill passed the House with 231 votes for it and 192 votes against it.
The Immigration Act of 1990 was then signed into law by Republican former President George H. W. Bush.
For his part, Schumer didn't engage the president on the visa lottery program. Instead, the Senate minority leader issued a statement on Wednesday morning urging Trump to reconsider slashing funds from some anti-terrorism programs.
"President Trump, instead of politicizing and dividing America, which he always seems to do at times of national tragedy, should be focusing on the real solution — anti-terrorism funding — which he proposed cutting in his most recent budget," Schumer said. "I'm calling on the president to immediately rescind his proposed cuts to this vital anti-terrorism funding."