Chuck Schumer to Donald Trump after NYC terrorist attack: "Where is your leadership?"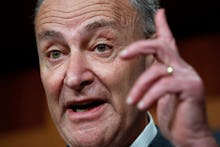 Senate Minority Leader Chuck Schumer (D-N.Y.) laced into President Donald Trump on Wednesday morning, saying Trump's response to the terrorist attack in New York is lacking.
Trump accused Schumer and Democrats of supporting immigration policies that led to the attack, which killed eight and injured 11 others in Schumer's home state.
Schumer contrasted Trump's comments with former President George W. Bush's response after 9/11, saying, "the contrast between President Bush's actions after 9/11 and President Trump's actions this morning could not be starker."
"I've seen the tweets from President Trump. After Sept. 11, the first thing that President Bush did was invite Sen. [Hillary] Clinton and me to the White House, where he pledged to do whatever was in his power to help our city," Schumer said on the Senate floor. "President Bush in a moment of national tragedy understood the meaning of his high office and sought to bring our country together. President Trump, where is your leadership?"
Trump's attempt to blame the attack on Schumer is based on unfair and misleading information.
The Diversity Visa Lottery program, an immigration policy that Trump said allowed the suspect into the country, is from 27 years ago, and received broad bipartisan support.
In fact, Schumer voted for an immigration bill in 2013 that would have ended the very program Trump said was responsible for the attack.
Sen. Jeff Flake (R-Ariz.) pointed this out on Twitter in response to Trump's tweet.
"In fact, had the Senate Gang of 8 bill passed the House, it would have ended the Visa Lottery Program AND increased merit-based visas," Flake said.