Las Vegas one month later: Whatever happened to bipartisan efforts to regulate bump stocks?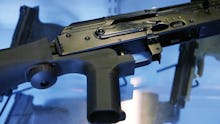 In the wake of the mass shooting in Las Vegas on Oct. 1 that killed more than 50 people, it looked like there actually may be a bipartisan way to move forward on gun control measures: by banning bump stocks.
Bump stocks, which were found in alleged shooter Stephen Paddock's hotel room after the shooting, are an accessory for semiautomatic weapons that enables them to fire at a high speed, essentially mimicking the functionality of an automatic weapon.
Though the sale of automatic weapons is largely restricted, bump stocks remain legal through a subtle loophole, as they do not have any automatic mechanical function. A bump stock requires the shooter's finger to repeatedly hit the gun's trigger to fire multiple shots, thus differentiating itself from the definition of an automatic weapon as a gun that can fire multiple shots "by a single function of the trigger."
After Paddock was found to have used the device to shoot hundreds of people at a high speed, condemning bump stocks seemed to be the one gun control point on which both Republicans and Democrats could agree. Sen. Dianne Feinstein introduced a bill that would ban bump stocks and similar devices on Oct. 4, and a similar bipartisan bill was introduced in the House of Representatives on Oct. 10.
Even such staunch conservatives as Sens. Newt Gingrich and Lindsey Graham agreed taking action against the accessories was worth considering in the immediate aftermath of the deadly shooting.
"One of the concerns that I have is the ability to manipulate a semi-automatic rifle and turn it into a fully automatic rifle," Sen. Dean Heller (R-Nev.) said, according to NBC News. "There has to be a way to be able to stop this."
The National Rifle Association also seemed to be behind banning bump stocks, writing in a statement: "The NRA believes that devices designed to allow semi-automatic rifles to function like fully-automatic rifles should be subject to additional regulations."
A month after the deadly Las Vegas attack, however, bump stocks are still legal at both the federal and state level, with the exception of an existing ban in California. If a bump stock ban is such a seemingly easy and popular measure to take, why hasn't any progress been made?
Legislation vs. regulation: Passing the buck on bump stocks
One of the key reasons behind the lack of progress on a bump stock ban, it seems, is while many Republicans in Congress may support the idea of a ban, they don't actually want to take legislative action on it.
Though House Speaker Paul Ryan said in the wake of the Las Vegas shooting that a bump stock ban was "clearly ... something we need to look into," he apparently didn't mean through actual Congressional action. On Oct. 11, Ryan threw his support behind a re-evaluation of existing regulations, rather than new legislation, to ban bump stocks, saying: "We think the regulatory fix is the smartest, quickest fix."
A group of nine GOP senators, similarly, sent a letter to the Bureau of Alcohol, Tobacco, Firearms and Explosives, also known as ATF, and its acting director Thomas Brandon, asking the agency to review its interpretation of the regulations legalizing bump stocks.
"Given the function and capability of a semi-automatic rifle that is modified by a bump stock, we respectfully request that you review the Obama administration's interpretation and issue your own interpretation," the GOP senators wrote in the letter, as quoted by Politico. "Unfortunately, we are all now keenly aware of how this device operates and believe that this renewed review and determination will keep our citizens safe and ensure that federal law is enforced."
The NRA, too, put the onus on ATF, rather than Congress. In the organization's initial statement, they specifically called on ATF "to immediately review whether these devices comply with federal law."
"If we could legislate morality, we would have done it long ago," NRA executive vice president Wayne LaPierre said on CBS's Face the Nation, as quoted by the Washington Post. "I think you want to tell ATF to do its job. It's an interpretive issue, and they need to get the job done."
Calling for ATF regulations isn't as effective as Republicans claim
While Republicans can point to ATF to fix the bump stock problem, the issue isn't as easy to regulate as it seems. ATF was the agency that declared the devices legal in the first place in a 2010 letter approving the device to leading bump stock manufacturer Slide Fire Solutions, writing: "We find that the 'bump-stock' is a firearm part and is not regulated as a firearm under Gun Control Act or the National Firearms Act."
But ATF has repeatedly made clear that they don't have the power to outlaw the device, as it was specifically designed to fit into the existing government regulations — which would be up to Congress to change.
"A lot of discussion was made over it, and there was a lot of thought put into it," Richard Vasquez, the former acting chief of the Firearms Technology Branch of ATF, told the Los Angeles Times about the agency's initial decision to allow bump stocks. "When we looked at it … we could not fit it into the definition [of a machine gun].
"That's all a government agency can do, because Congress writes the laws," Vasquez said.
ATF responded to the renewed calls for the agency to review the bump stock's legality with a letter of its own to Rep. Carlos Curbelo (R-Fla.), one of the sponsors behind the proposed bump stock bill in the House.
"The bump slide, and several other similar after-market accessories that increase the rate at which a shooter can pull the trigger, are engineered to avoid regulation under federal law," the letter reads. "These accessories DO NOT cause the firearm to shoot more than one shot by the single function of a trigger pull. The notion that ATF chose not to regulate an item it had the authority to regulate is false. The law is very clear and it does not currently allow ATF to regulate such accessories.
"ATF makes rulings based on the statutory authority contained in law and cannot change the law to add new accessories that do not fall within the scope of existing law," the letter continued.
Democrats in Congress, meanwhile, have continued to push for legislative action, recognizing the ATF's inability to act and suggesting the Republicans' push for re-interpreted regulations may be more of a stalling tactic than a path toward actual change.
"We need legislation because the alternative is 'regulation,' which means two or three years of waiting for a rule that the NRA itself probably will challenge and tie it up for years more," Democratic Sen. Richard Blumenthal told CNN. "So I think the proposal for a rule or regulation is a deceptive dodge, purposefully suggested by the NRA as a way to avoid any real prohibition."
There's a new legislative push in Congress — but it won't ban bump stocks completely
With Feinstein's Senate bill and the proposed House bill banning bump stocks failing to move forward in Congress, another House bill was proposed on Tuesday addressing bump stocks, though it wouldn't ban them completely.
The bipartisan "Closing the Bump Stock Loophole Act," which was filed by Reps. Brian Fitzpatrick (R-Pa.) and Dina Titus (D-Nev.), would require anyone who purchases a bump stock or is in possession of one to register with ATF and undergo a registration process that includes a background check, fingerprinting and a $200 registration fee.
"Anyone who wants a device that modifies a firearm to shoot hundreds of rounds per minute should undergo thorough background checks and oversight," Titus said about the bill, as quoted by the Hill. "Congress must take meaningful action to address this national epidemic. We cannot stand in silence any longer."
Taking on bump stocks at the state level and in the courts
With the federal government dragging its feet on a bump stock ban, states have begun proposing their own bump stock legislation — although those, too, have been met with challenges.
Proposed bump stock legislation has already failed in Illinois, with critics citing overly broad language that would ban any modification increasing the rate of fire, even if that meant simply replacing a spring or trigger. A bill banning bump stocks also failed in committee in the New Hampshire House, though it may be re-filed in the state Senate.
A bump stock ban at the state level currently looks most likely to go through in Massachusetts, whose House lawmakers voted 151-3 in favor of an amendment banning bump stocks to a state budget bill. The state Senate also voted unanimously on a similar ban, though state lawmakers are reportedly still working to consolidate the two versions of the ban, missing the budget bill's Oct. 31 deadline.
Though Slide Fire Solutions has now resumed sales of the deadly device — after running out of inventory — it and other bump stock manufacturers are also being directly challenged in the legal system. Bloomberg reported that three Nevada plaintiffs, who attended the concert where the shooting took place, have filed a complaint against Slide Fire Solutions and other bump stock manufacturers and retailers, seeking unspecified damages and funds to pay for the victims' counseling and treatment for emotional distress.
The bump stock sellers and manufacturers are being condemned for "behav[ing] negligently in selling and producing these devices," according to Bloomberg. The complaint specifically cites the claim made by bump stock manufacturers that the devices are intended for those with disabilities that limit their ability to shoot a gun, noting that the plaintiffs are "unaware of any measures taken by Slide Fire to ensure that bump stocks would only be sold to persons whose hands had limited mobility, or to even see if persons buying bump stocks who were not limited in mobility had any legitimate reason to buy them."
"Paddock could not have injured so many people without a bump stock," the complaint reads, as quoted by Bloomberg. "Paddock may not have launched his military-style assault without a bump stock. There are people who were killed, injured, and suffered emotional distress who would not have been, if Paddock had not possessed a bump stock."