As Trump politicizes tragedy, New York's Islamic groups wrestle with new challenges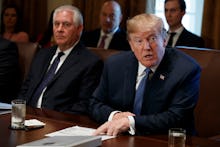 After a 29-year-old man plowed a Home Depot truck into a crowded bike lane in Lower Manhattan on Tuesday, killing 8 people in what would become the deadliest terror attack the city had seen since Sept. 11, 2001, President Donald Trump wasted no time in declaring that federal action aimed at targeting the Muslim community was imminent.
"I have just ordered Homeland Security to step up our already Extreme Vetting Program," he wrote in a tweet just six hours after the incident occurred. "Being politically correct is fine, but not for this!"
The chilling waiver of political correctness ran counter to the president's more measured responses to previous acts of violence that had taken place on American soil during his tenure. Gone was the "we need all the facts"—style restraint he had shown in the wake of the violence in Charlottesville, Virginia, when a driver had similarly rammed his car into a crowd of people, killing 32-year-old Heather Heyer in the process.
Gone, too, was the caution his administration had displayed after the mass shooting in Las Vegas in October, after which press secretary Sarah Huckabee Sanders had declared that "there is a time and place for a political debate, but now is the time to unite as a country."
The most immediate difference was that the suspect in Tuesday's incident, Sayfullo Saipov, had been identified by law enforcement officials as someone who harbored sympathies for the Islamic State group, also known as ISIS, and its tactics, and who had emigrated to the United States from Uzbekistan seven years ago (the attackers in Charlottesville and Las Vegas were both white.)
But as Trump continues to frame Tuesday's incident — the first instance of Islamist-perpetuated terror on U.S. soil since his presidency began — as an example of the dangers of being too politically correct, New York City's Islamic groups are left to grapple with the dangers of that sentiment being taken to its logical conclusion.
Albert Fox Cahn, the legal director for the New York chapter of the Council on American-Islamic Relations, said in a phone interview that while the group was first and foremost heartbroken over the attack, its staff was also "incredibly disturbed to see that there are politicians who are trying to capitalize on this tragedy to attack the Muslim community and attack the values that New York stands for."
In the wake of policies like Trump's so-called "Muslim ban" — which in its earliest iteration would have banned the issuing of visas to citizens from Syria, Iraq, Iran, Libya, Somalia, Sudan and Yemen — Cahn said CAIR has been laser-focused on fighting discrimination by the Customs and Border Protection agency, which he described as a "distraction from evidence-based policing that actually keeps folks safe."
"We can't let the president's political rhetoric turn CBP into simply an agent of discrimination," he said. "Our focus is on monitoring CBP's practices and making sure that they aren't taking any measures that violate the constitutional rights of Muslim Americans or any other marginalized community."
He added that the president had, unfortunately, chosen to use his position as a "bully pulpit" in the wake of an attack that should have brought Americans closer together.
Indeed, in the wake of the Sept. 11, 2001 attacks that left nearly 3,000 Americans dead and a nation shaken, then-President George W. Bush cautioned against reactionary anti-Muslim bigotry, famously declaring that "Islam is peace," and encouraging civilians of all denominations to "treat each other with respect."
Trump, however, has chosen a different path.
During a White House Cabinet meeting on Wednesday, the president announced that he intends to ask Congress to "immediately initiate work to get rid of" the Diversity Visa Lottery, which Saipov had used to enter the U.S. seven years ago.
"Diversity lottery, diversity lottery. Sounds nice, it is not nice, it is not good. It hasn't been good and we have been against it," Trump said.
The lottery had been used as a means to distribute around 50,000 visas via random selection to countries with low rates of immigration to the U.S.
"Rather than comforting and uniting our country, rather than trying to honor the bravery we saw yesterday and the best qualities of our city, he's chosen to redirect our pain and our anguish into bigotry," Cahn said. "And that is something that's intolerable."