New York just had its deadliest terror attack since 9/11 — that's "stunning," says one expert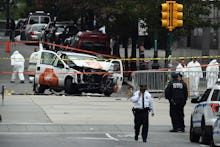 On Tuesday afternoon, a rented truck drove into a busy bike path in Lower Manhattan, hitting pedestrians and cyclists, leaving eight people dead and more injured. The attack is the deadliest since Sept. 11, 2001 — which, considering the size and visibility of New York, is somewhat of a feat.
"I would say that it is stunning, in the sense that, even prior to 9/11, let's go back all the way to 1993, New York was a target," counterterrorism expert Bruce Alexander said in a phone interview on Wednesday.
Alexander has some three decades of intelligence and counterterrorism experience which began with his work as a military police officer in Germany combating European terrorism in the 1980s.
Speaking to Mic on Wednesday, he said that the absence of any deadlier terror attack in New York City over the past 16 years is both "fortuitous" and significant. "Since the 9/11 attacks, New York City has been in the forefront of counterterrorism efforts at a local level." Alexander said. "They have been very proactive."
There are "overt" counterterrorism measures at play in New York, Alexander said, like the city's "See something, Say something" campaign, or the police and National Guard presence around the city, at busy spots like major train stations. Their presence alone can serve as a deterrent to potential attackers, according to Alexander.
However there is also a vast network of invisible systems at play around the city, intended to combat, deter or prevent terrorism, that goes on "day in and day out," Alexander said. Those include the NYPD's collaboration with federal agencies and partnerships with foreign cities, its outreach to commercial businesses to help them identify potential threats and a network of "informants."
There is also, Alexander said, a large surveillance and intelligence-gathering effort, going on all day, every day — and in large crowds at busy spots around the city there are "absolutely" plainclothes officers in addition to the uniformed security.
Speaking to NBC Nightly News in July, officers with the NYPD's Critical Response Command team, a counterterrorism task force created in 2015, said they were trained to spot "who's not fitting into the crowd." CRC officers, trained in "behavior analysis" and explosives and armed with powerful weapons, are deployed around the city, NBC reported.
However, as Alexander said in the phone interview, it's difficult to measure just how much terrorism isn't happening as a result of the city's counterterrorism efforts. "There is no way to measure it … because measuring it also implies that you're aware of all the attacks that didn't take place," Alexander said.
Speaking to Mic on Wednesday, Brian Nussbaum, a former intelligence analyst and an assistant professor at the University of Albany, agreed that it is "very challenging" to gauge just how effective counterterrorism efforts are. Still, he said, there are indicators — one of which may in fact be the method used in Tuesday's deadly attack.
Despite the tragedy and loss of life associated with vehicle attacks like Tuesday's, Nussbaum said, the use of vehicles can indicate that would-be terrorists have fewer methods available to them when carrying out attacks. "It's important to recognize that if you have made it such that terrorists can only use vehicle attacks, you're probably winning," Nussbaum said.
The fact that New York hasn't had a "large-scale," coordinated attack like the deadly 2015 Paris attacks, "seems to me to suggest that a lot of the counterterrorism efforts have at least been partially successful," Nussbaum said — although he pointed out that "luck certainly also plays a role."
"At the end of the day, there is a limitation to what you can do to respond to vehicle attacks," Nussbaum said, and it's not feasible to prevent every attack — the goal is, instead, to "lower the risk and lower the potential impact."
Nussbaum praised both the response of local and state leaders and the actions of everyday New Yorkers who carried on with their lives, going out to celebrate Halloween as planned. That, Nussbaum said, was "exactly the right response" to terrorism.