Schumer says Trump should respond more like Bush — actually he already is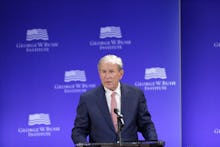 After Tuesday's attack in downtown Manhattan, many were shocked to see the president respond by attacking New York's senior Senator, Chuck Schumer.
"The terrorist came into our country through what is called the 'Diversity Visa Lottery Program,' a Chuck Schumer beauty. I want merit based," Trump tweeted.
Schumer later responded to Trump's tweet by contrasting his response to the attack with that of former President George W. Bush in the wake of 9/11.
"President Bush in a moment of national tragedy understood the meaning of his high office and sought to bring our country together." Schumer said from the floor of the Senate. "President Trump, where is your leadership?"
But despite Trump's attempt to turn a national tragedy into a partisan fight, the president's response has not been all that different from that of George W. Bush or other previous Republican leaders.
On Tuesday Sayfullo Saipov, an Uzbek national who entered the U.S. with a visa in 2010, drove a truck into a protected bike lane in lower Manhattan, killing at least eight people and injuring many more.
Initial reports suggest that the attack was an act of terrorism.
Following the attack, Trump ordered the Department of Homeland Security to crack down on the U.S. visa program by ramping up "extreme vetting,"and called on Congress to end the "diversity lottery" visa program, that allowed Saipov to enter the country.
For the past year politicians and media outlets have treated anti-immigrant responses to terror attacks as a particularly Trumpean phenomenon.
But attacks on the U.S. visa and refugee programs — attacks that often appear to be directed at Muslim populations — has been the preferred response of Republican politicians for decades.
Following the events of Sept. 11, 2001, Bush responded in part by creating new restrictions on visa-holders from several Muslim majority countries. Through the creation of the National Security Entry-Exit Registration System, or NSEERS, tens of thousands were forced to register on special lists that advocates said operated like Muslim registries.
In addition, new visa restrictions led to a wave of detentions and deportations for visa holders who had previously been allowed to stay in the United States. The program was eventually shuttered under the Obama administration after considerable backlash from civil rights and Muslim advocacy groups in the U.S.
But throughout the Obama administration, Republicans continued to respond to terror attacks with calls for new restrictions on visa holders, refugees and other foreign nationals coming to the U.S.
After the Boston Marathon Bombing, Sen. Rand Paul (R-Ky.) first proposed legislation that would suspend travel visas from around 30 countries that were considered to have a "high risk" of terrorism.
Paul reintroduced the legislation while running for president in 2015, following terror attacks in Paris. At the time, Paul's position went little noticed among a field of Republican candidates, each jockeying for the most restrictive response to the overseas attack.
New Jersey Gov. Chris Christie, suggested that, in response to the attacks in Paris, the U.S. should stop accepting any refugees from Syria, including children as young as five years old.
Sen. Ted Cruz offered a similar proposal focusing specifically on Muslim refugees from Syria, while Ben Carson suggested that the U.S. should be surveilling immigrants from the Middle East who are already living in the U.S.
All those proposals were eventually overshadowed, when, in December 2015, then-candidate Trump called for a "total and complete shutdown" of Muslims entering the U.S.
But that doesn't mean Republicans have stopped responding to terror attacks in the same way.
In a Fox News interview about the New York attack on Wednesday, Paul, once again introduced his proposal to keep people from certain regions from entering the U.S. at all.
"Maybe we should stop certain countries from sending people here for awhile. It's not like you have a right to move to our country," Paul said.