Munroe Bergdorf lands herself a new fashion campaign with Missguided, championing empowerment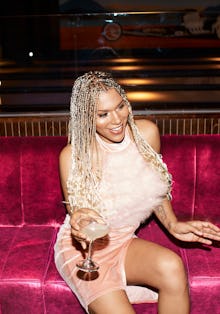 We knew it was only a matter of time until the fashion industry fell in love with Munroe Bergdorf.
Just two months ago, Bergdorf made history as the first out transgender woman as the face of L'Oréal U.K., but then L'Oréal U.K. fired her for speaking out against white supremacy amid a swirl of controversy. Soon after that, a rival makeup company — Illamasqua — scooped her up for its own campaign. Now fashion is taking note.
On Wednesday, the young and trendy brand Missguided named Bergdorf as one of its #BabesOfMissguided, casting her in a new campaign called "Keep on Being You."
The campaign itself, which has the tagline "Keep on being you, it's a really great look," is all about personal empowerment, with a cast comprised of people who are living life as their authentic selves, celebrating their true selves with confidence. Alongside Bergdorf, there's people like genderqueer musician Seann Miley Moore, curve model Emma Breschi, plus-size advocate Enam Asiama and vitiligo advocate and model Aiesha Robinson, among others.
Much like Bergdorf's campaign with Illamasqua, Missguided seems like a perfect fit for Bergdorf, giving her a campaign that allows her to have a voice and talk about the issues that are important to her.
In an op-ed for Mic, Bergdorf wrote about the importance of authentic messaging in campaigns.
"Advertising is about making an audience feel something new and exciting or something familiar and comforting. It's about making an audience believe that their life will be improved in some way by a product," Bergdorf wrote, noting that authenticity can stem from the team crafting the ads and campaigns. "But this has to be organic. Regardless of background, nobody wants to feel like their movement, race or gender is being used as a ploy to push a product."
And we have to say that with this particular campaign, the diverse cast doesn't feel forced or, in Bergdorf's words, used here as tokens either.
As she wrote: "It is the message that has to be diverse, not just the cast." And with a message of self-empowerment, Missguided seems to have gotten this campaign very right.
Mic has reached out to Bergdorf and Missguided for comment.